These fried or baked Italian Ricotta Castagnole are made with ricotta cheese which makes them soft and delicious sweet dough balls. The Italian way to bring in Carnival Time.
Ricotta Castagnole
It's Carnavale Time in Italy which means time for Castagnole and Frappe. Both so good you will be eating them one after another.
Nowadays when I go to the grocery store its out with the Panettone and Torrone and in with the freshly made Castagnole.
I make both types with and without ricotta. And I can say adding ricotta to recipes makes the dough softer and tastier.
How to make Castagnole with Ricotta
In a large bowl whisk together the dry ingredients.
Make a well in the middle and add the egg and ricotta.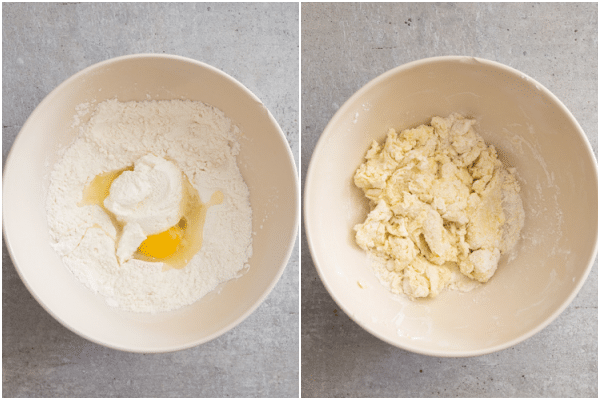 Mix together to form a dough.
Form small pieces of dough into balls the size of a chestnut.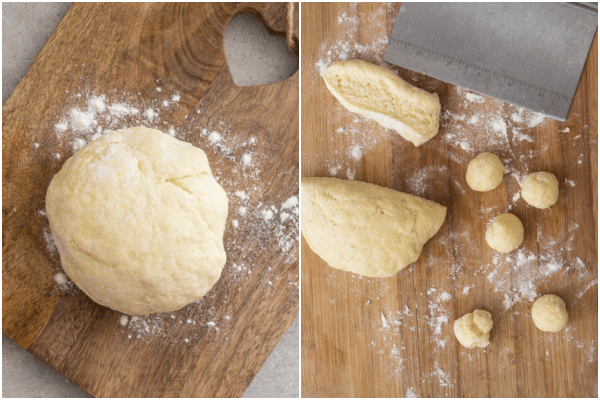 Fry in hot oil or bake if preferred.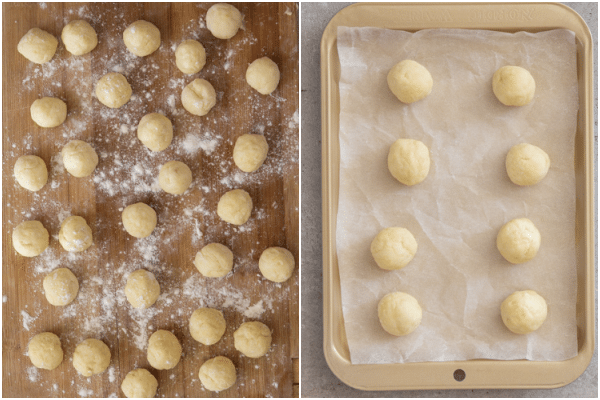 Remove with a sieve and place on a paper towel lined plate.
When still very warm roll in sugar.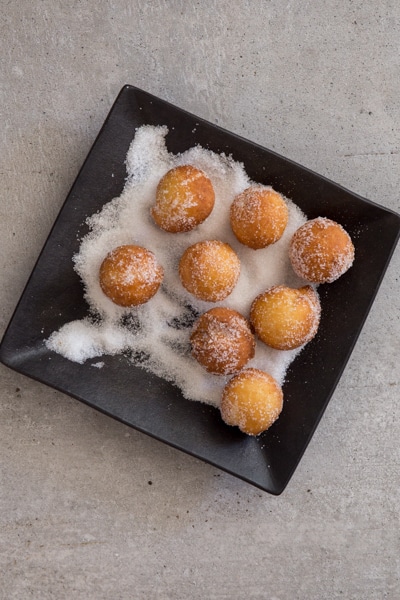 Tips for deep frying
The best oil to use are peanut, sunflower or canola oils. Be sure to heat the oil to a temperature of 340F (175C). Try to keep it as close to this temperature as possible.
Lower than this and they will be soggy and not cooked, too high and they will cook too much on the outside and not enough on the inside.
If you happen to be deep frying a lot of items, it may be best to change the oil half way through.
What does Castagnole mean?
It means chestnut, which is the size the dough balls should be before frying, because once they start to fry they will expand in size.
Where did they originate
Castagnole also known as Favette originated in the Region of Rome although they are popular throughout Italy. And of course every region has added their own signature to them. From adding different spices to even filling them after they are made.
Are fried better than baked
I am going to say yes fried are better. In my opinion they taste better and they are softer. Baked are good too, but remember they can't be rolled in granulated sugar because the sugar won't stick, so they should be dusted in powdered sugar instead.
The Best Italian Carnival Food
Some of the best food is made and shared during this time of the year, which starts approximately two weeks prior to Ash Wednesday and ends on Shrove Tuesday, this year the start is February 8th and ends the 25th of February.
My mother-in-law used to make the best deep fried sweet ravioli (which I hope to share soon). Besides Castagnole who can forget Frappe?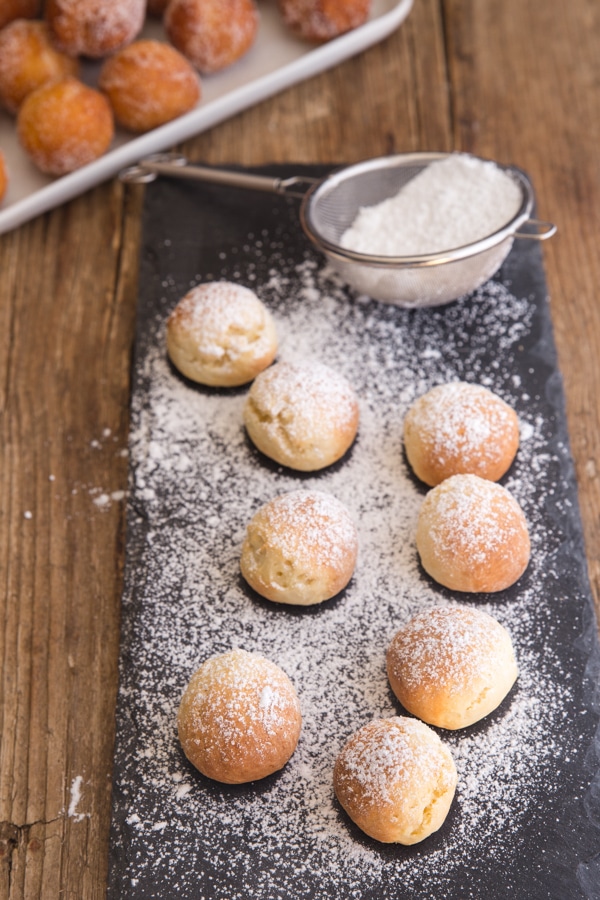 How to store them
I don't recommend storing them at all, since they are fried they should be eaten as soon as possible. Even the baked may become drier and harder if left over.
More Delicious Ricotta Recipes
Italian Orange Ricotta Cookies
Italian Chocolate Chip Ricotta Cake
So if you are looking for something sweet to celebrate Carnival Time why not try making some Ricotta Castagnole and let me know what you think. Enjoy!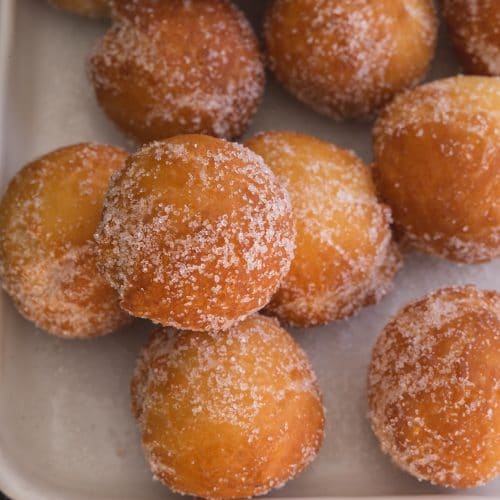 Ricotta Castagnole Recipe
These fried or baked Italian Ricotta Castagnole are made with ricotta cheese which makes them soft and delicious sweet dough balls.
Ingredients
1

cup

all purpose flour

(125 grams)

3

tablespoons

granulated sugar

(37.5 grams)

1

tablespoon

cornstarch

(8.5 grams)

1/2

teaspoon

baking powder

1

pinch

salt

zest of 1/2 a lemon (or orange if you prefer)

1

large

egg

1/2

cup

ricotta cheese

(125 grams)
EXTRAS
1/4-1/2

cup

granulated sugar for rolling

(50-100 grams)

2-3

tablespoons

powdered / icing sugar for sprinking
Instructions
If the ricotta is very watery then place in a sieve over a bowl and leave to drain for about 15 minutes.

In a large bowl whisk together the flour, sugar, corn starch, baking powder, salt and zest. Make a well in the middle add the egg and ricotta.

Mix together with a fork or spatula the ingredients almost come together. Move the mixture to a lightly floured flat surface and gently knead a few times to form a soft compact dough. The dough will be a little sticky but do not add extra flour, lightly dust hands with flour while kneading. Cover the dough with a tea towel and let rest for 20 minutes.

Remove small pieces of dough and form into balls the size of a chestnut.

In a medium high sided pot add about 3 inches of oil, heat the oil to 340F (175C), keep the temperature as close to this as possible.

Fry 3-4 castagnole at a time, turning to fry golden brown on both sides. Two minutes on each side should be enough time. Remove them with a slotted spoon to a paper towel lined plate, leave for a few seconds then roll in granulated sugar. Place on a clean plate and serve immediately.
TO BAKE
Pre-heat oven to 350F (180C), line a cookie sheet with parchment paper.

Place the castagnole on the cookie sheet and bake for about 12-15 minutes or until golden brown. Let cool and dust with icing sugar.
Nutrition
Calories:
39
kcal
Carbohydrates:
7
g
Protein:
1
g
Fat:
1
g
Saturated Fat:
1
g
Cholesterol:
9
mg
Sodium:
8
mg
Potassium:
18
mg
Fiber:
1
g
Sugar:
3
g
Vitamin A:
28
IU
Calcium:
13
mg
Iron:
1
mg