I decided to make this Dark Chocolate Orange Cake as my Easter Dessert. To tell the truth I have made this cake a few times, and every time I did it a little different.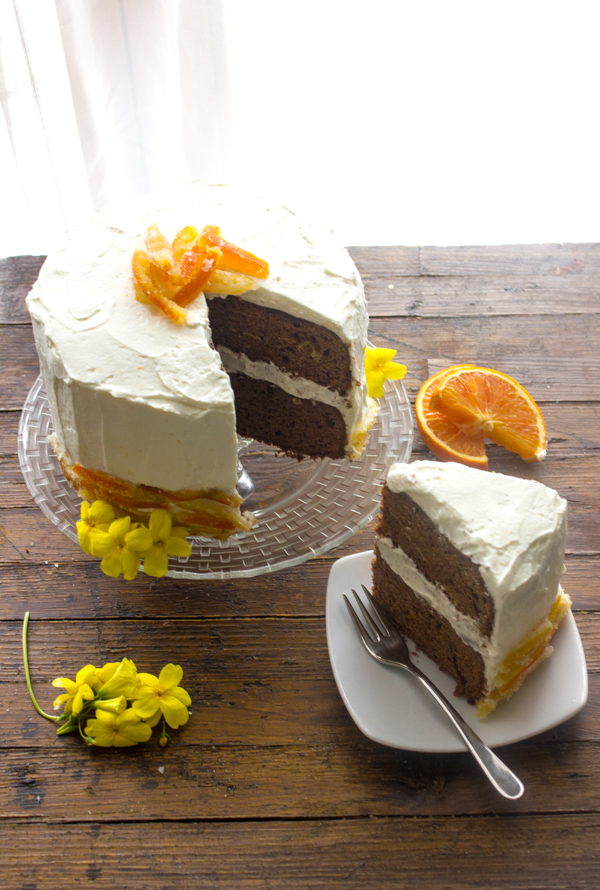 I thought for Easter I would fancy it up a bit by frosting this Chocolate Orange Cake with a deliciously creamy Orange Cream Cheese Frosting.
The sad thing about being a food blogger or maybe not so sad thing is that you either eat something more than once or twice or you eat it 2 or 3 weeks before the actual holiday because you have to get it up on the blog.
This Chocolate Orange Cake became a personal project for me, I kept imagining it in so many different ways. It became "OK I am making this again but different, now tell me which one you like best".
To tell the truth the Italian doesn't mind much, he really enjoyed this cake, as did the Nutella Queen.
So yes I made this Chocolate Orange Cake three different ways, the first time I made it quite simple. I dusted the finished cooled cake the way Italians like it best, with a little powdered/icing sugar.
The second time we had friends for dinner so I drizzled the Cake with a delicious chocolate ganache. It went so fast there wasn't even a crumb left to take a photo.
And this last time, since Easter is early this year I decided to bring the arrival of spring, the end of winter and the wonderful Easter holiday all together.
I liked the idea of a not-so-sweet-frosting, similar to the one I made for the Vanilla Cake with Mascarpone Cream Frosting but this time with Cream Cheese and a hint of orange. I needed something simple to decorate the cake with, since decorating is not my forte.
Dark Chocolate Orange Cake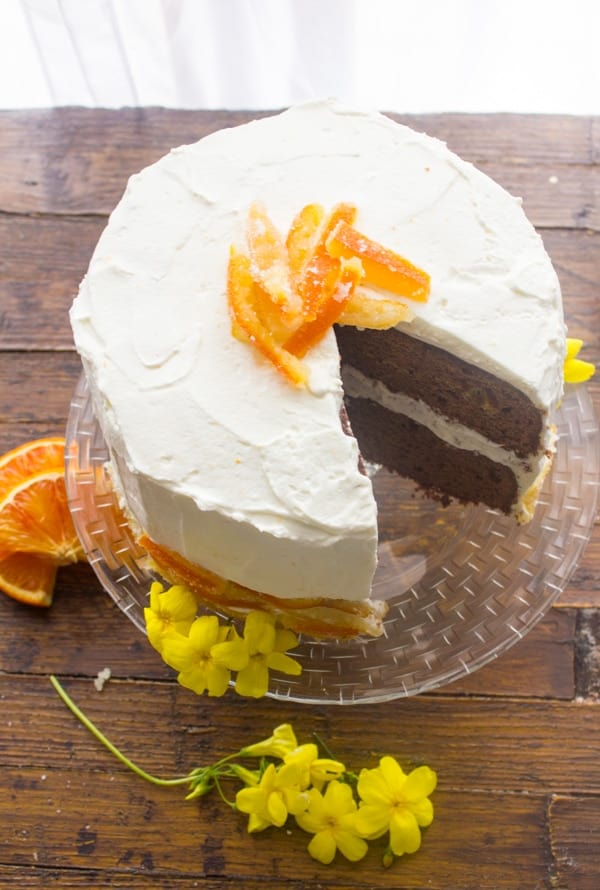 So what could be simpler then Candied Orange Peels which I discovered from the Food Network? But that part of the cake I will leave up to you, even some grated dark chocolate would work well. So whatever you choose, I wish you a Happy Easter and Enjoy!
Dark Chocolate Orange Cake
Dark Chocolate Orange Cake, an easy delicious healthy dark chocolate cake recipe. With a creamy cream cheese frosting. The perfect dessert.
Ingredients
FOR THE CAKE
10 1/2

ounces

dark chocolate (good quality brand)

(300 grams)

3

large

eggs (room temperature)

1

large

egg yolk (room temperature)

3/4

cup

granulated sugar

(170 grams)

zest of 1 orange

1/2

cup

+ 3 tablespoons Greek yogurt

(175 grams)

1/2

cup

vegetable oil (I use corn or sunflower oil)

(100 grams)

2

cups

cake flour

(240 grams)

2¼

teaspoons

baking powder

(15 grams)

½

teaspoon

baking soda

(2.5 grams)

¼

teaspoon

salt

(2.8 grams)
FOR THE FROSTING
1 1/2

cups

cream (heavy, whole or whipping)

(360 grams)

6

ounces

cream cheese

(187.5 grams)

1/4

cup

+ 1 tablespoon powdered/icing sugar

(39.05 grams)

zest from 1/2 orange

(if desired)
Instructions
Pre-heat oven to 340° (170° celsius) lightly grease and flour 2 8 inch cake pans (20 centimeters).
FOR THE CAKE
Melt chocolate in a bowl over a pot of boilng water (make sure bowl does not touch the water)when almost melted remove from heat and stir until smooth. Let cool.

In a large bowl beat eggs, sugar and zest until light and fluffy (approximately 5 minutes). Add yogurt and combine then slowly drizzle in the oil and combine until smooth.

In a medium bowl whisk together flour, baking powder, baking soda and salt, then add to yogurt mixture and combine, then add melted cooled chocolate and combine. Spoon into prepared cake pans and bake for approximately 35-45 minutes (or until toothpick comes out dry and clean). Let cool completely before frosting.
FOR THE FROSTING
In a large bowl whip cream until soft peaks appear, then add cream cheese, sugar and zest continue to beat until thick.
CANDIED ORANGE PEELS
Place peel in a small pot of water, enough to cover the peels, bring to a boil, drain and repeat two more times.

Mix together sugar and water in a small pot, simmer on medium heart for approximately 8 minutes, add the peel and lower heat to minimum and continue on a soft simmer for approximately 40 minutes, do not stir, swirl the pot a few times if necessary to combine. Drain the peels (reserve the syrup for future use), roll the peel in sugar and place on a wire rack to dry, approximately 1-2 hours (could be more depending on the temperature of your home). Frost cake and decorate. Enjoy!
Nutrition
Calories:
703
kcal
Carbohydrates:
68
g
Protein:
9
g
Fat:
44
g
Saturated Fat:
28
g
Cholesterol:
137
mg
Sodium:
270
mg
Potassium:
443
mg
Fiber:
3
g
Sugar:
41
g
Vitamin A:
860
IU
Vitamin C:
0.2
mg
Calcium:
138
mg
Iron:
5.1
mg
Candied Peel thanks to the Food Network.