Almond Crescent Cookies, a must make melt in your mouth, shortbread type Christmas Cookie. Fast, easy and the perfect addition to your Cookie Tray.
Almond Crescent Cookies
I woke up this morning and I thought "5 1/2 weeks until Christmas"! So what does that mean? Besides decorating and gift buying. Unless you are like me and Last Minute works just fine, thank you very much!
Except of course for cookie baking. I like to get my cookies made and in the freezer. And yes these Almond Crescent Cookies which she always called Viennese Crescents, are another Delicious Christmas Cookie Recipe thanks to my Mom.
Every year without fail she would bake up Whipped Shortbread (sometimes she would add chopped nuts instead of chocolate chips), Classic Shortbread, Hello Dollies (or also known as 7 layer bars).
And my own personal favourite, Coconut Jam Squares, these are an amazing bar cookie. I could eat a whole pan of those ! And of course these yummy melt in your mouth Crescent Cookies.
I can remember coming home from school and there she would be baking, boxing and freezing. Of course I would have to have a taste before they were boxed.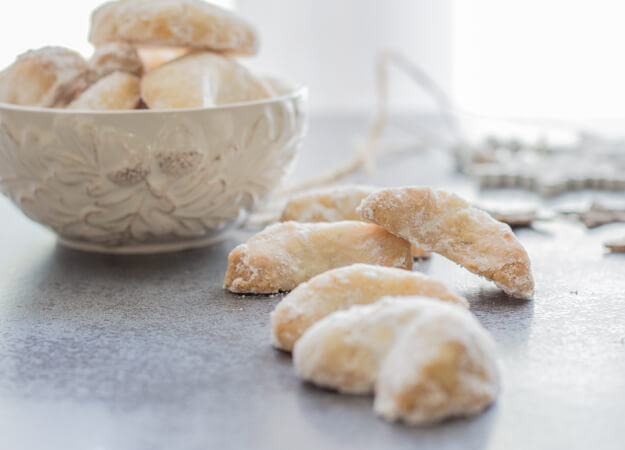 And to tell the truth frozen cookies tasted pretty good too!
These Almond Crescent Cookies are really easy and quick to make, no refrigerating the dough. Just whip the butter until fluffy beat in the sugar.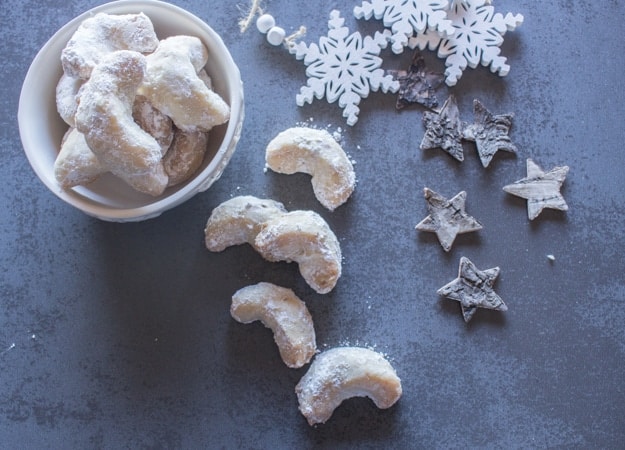 Add the rest of the ingredients, bring it all together to form a dough. Shape into the crescent form and bake for about 15 minutes. Then when they are still warm roll in some icing/powdered sugar.
If you can keep from eating them all,  you can also freeze them until Christmas. They make a delicious Cookie gift idea. The Italians love them.
And if you can't wait for Christmas that's ok too!
What you need to make these Almond Crescent Cookies
This post may contain affiliate links which won't change your price but will share some commission.
I use a Hand Mixer to beat the butter and sugar. And these non stick Baking Pans are perfect. And these cute Gift Boxes are great for gifting homemade baked goods.
If you have never tried Almond Viennese Cookies then I am telling you these are a must try. Happy Baking. Enjoy!
***Remember do not ground the nuts to a powder, they should be chopped into very small bits. Place the nuts in a plastic bag and smash them with a rolling pin, this works well.
***Please note the amount of FLOUR,  2 1/2 cups worked for me but it seems to be too much for most. So please start with 2 – 2 1/4 cups and if the dough seems too wet add a tablespoon (up to 4-8) at a time if needed. If you do find the dough dry work some soft butter into the dough to soften it up. Sorry for any inconvenience. This is an amazing cookie recipe, that I really want to work for everyone. Merry Christmas and Happy Holidays to all.
Almond Crescent Cookies
Almond Crescent Cookies, almond, pecan or walnut these melt in your mouth Christmas Cookie Recipe are a must make. Delicious.
Ingredients
1

cup

butter*

3/4

cup

granulated sugar

1

pinch

salt

(if you use unsalted butter add 1/4 teaspoon salt)

3/4

cup

finely chopped fresh almonds, walnuts or pecans

2 -2 1/2

cups

all purpose flour **

(if you are in Italy substitute all purpose with Manitoba Flour)
*I use salted butter, if you use unsalted then add 1/4 teaspoon of salt.
Instructions
Pre-heat oven to 350°  

In a large bowl beat butter until fluffy, add sugar and beat again until fluffy. Scrape down the sides of the bowl and add nuts, flour ** (add 2 cups to start and 1 tablespoon at a time (up to 8 tablespoons if needed See Note Above!) ) and salt. Beat on low until combined.

 Bring dough together with your fingers.  Break off small pieces and form into a crescent shape.  Place on un-greased cookie sheets and bake for approximately 15 minutes . While cookies are still warm roll in icing/powdered sugar or let cool and dust with icing sugar.   Enjoy!
Nutrition
Calories:
76
kcal
Carbohydrates:
5
g
Fat:
5
g
Saturated Fat:
3
g
Cholesterol:
12
mg
Sodium:
55
mg
Potassium:
21
mg
Sugar:
3
g
Vitamin A:
140
IU
Calcium:
8
mg
Iron:
0.2
mg