A savory cheese strudel with grilled eggplant is a delicious baked treat for lunch or dinner. Enjoy it warm from the oven, at room temperature, or even cold from the refrigerator. If you've never tried a savory strudel, I think you will enjoy it. It's like a favourite sandwich but instead of bread, you get the fillings wrapped up in flaky, buttery pastry.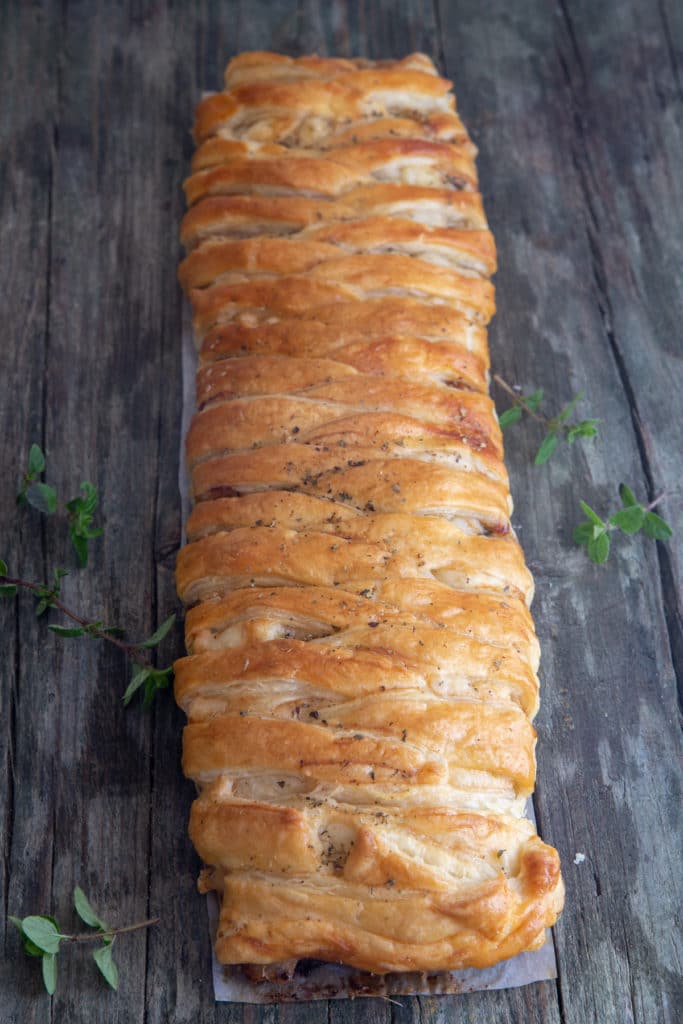 I love to make strudels because they are perfect any time of day – just change the fillings. For breakfast, I might make a sweet strudel with fruit and for our main meal, I change that filling to something savory like this eggplant cheese strudel.
It's a wonderful way to use up eggplant which seems to come from every direction during the summer. I like grilled eggplant because it's easy to do ahead of time and then I keep it in the refrigerator and use it in recipes like this savory cheese strudel.
Easy Savory Cheese Strudel
If you've never had a strudel, this is a great recipe to try. Many are sweet, but I enjoy savory ones because they are like fancy sandwiches made with puff pastry. Speaking of which, you can use store bought puff pastry sheets for this recipe or make your own homemade pastry. It's not as hard as you think – you can make it in about 10 minutes.
Once you know how to make a strudel the possibilities are endless with filling options. This eggplant and cheese version is delicious, but feel free to experiment with other fillings you like or try my mushroom , Caprese , or a sweet one like my strawberry cream cheese strudel.
For this eggplant puff pastry recipe, you don't need many ingredients and just a few minutes to assemble it. Then it goes into the oven until it's flaky, buttery, and hot inside with the melted cheese. It's ready in about 30 minutes – perfect for lunch or dinner.
Ingredients
Thawed puff pastry sheet
Slice grilled eggplant
Sliced Prosciutto di Parma
Milk
Olive Oil
Salt
Italian parsley
Recipe Steps
Grill the eggplant slices then toss with the olive oil, salt and chopped parsley. Take your thawed puff pastry sheet and roll it with a rolling pin a few times. Place half of the grilled eggplant slices down the middle of the sheet. Overlap them so there are no spaces in between them.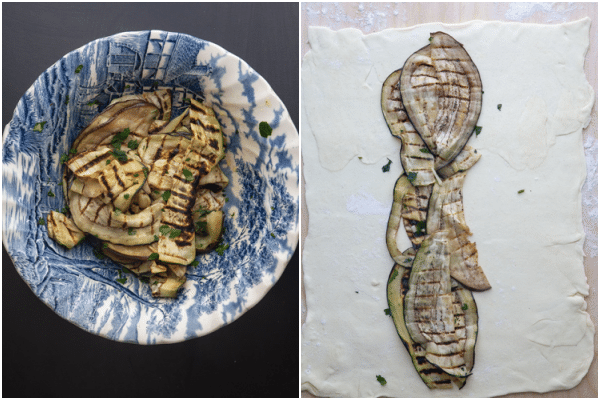 Top the eggplant with half of the sliced prosciutto and then sprinkle half of the cheese over the top. Repeat with another layer of eggplant, prosciutto, and cheese.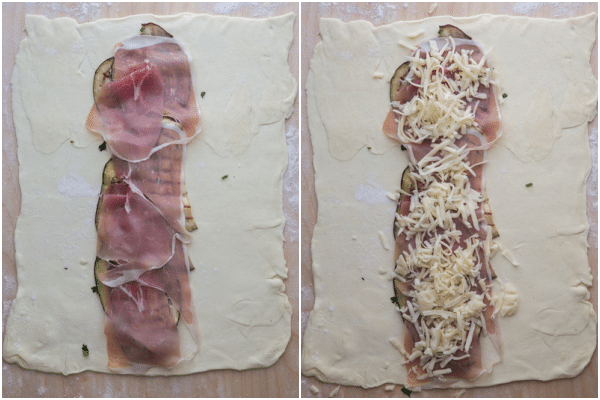 Slice the edges of the puff pastry into strips, stopping when you get to the filling. Pull the strips over the filling in a crisscross pattern.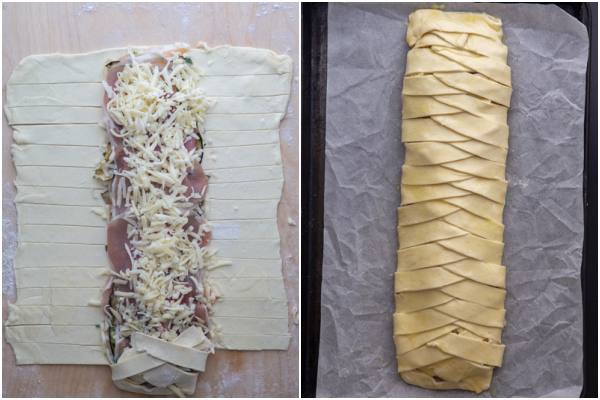 Place the strudel on a cookie sheet lined with parchment paper. Brush the top with the milk and bake it for about 30 minutes at 375°F (190°F).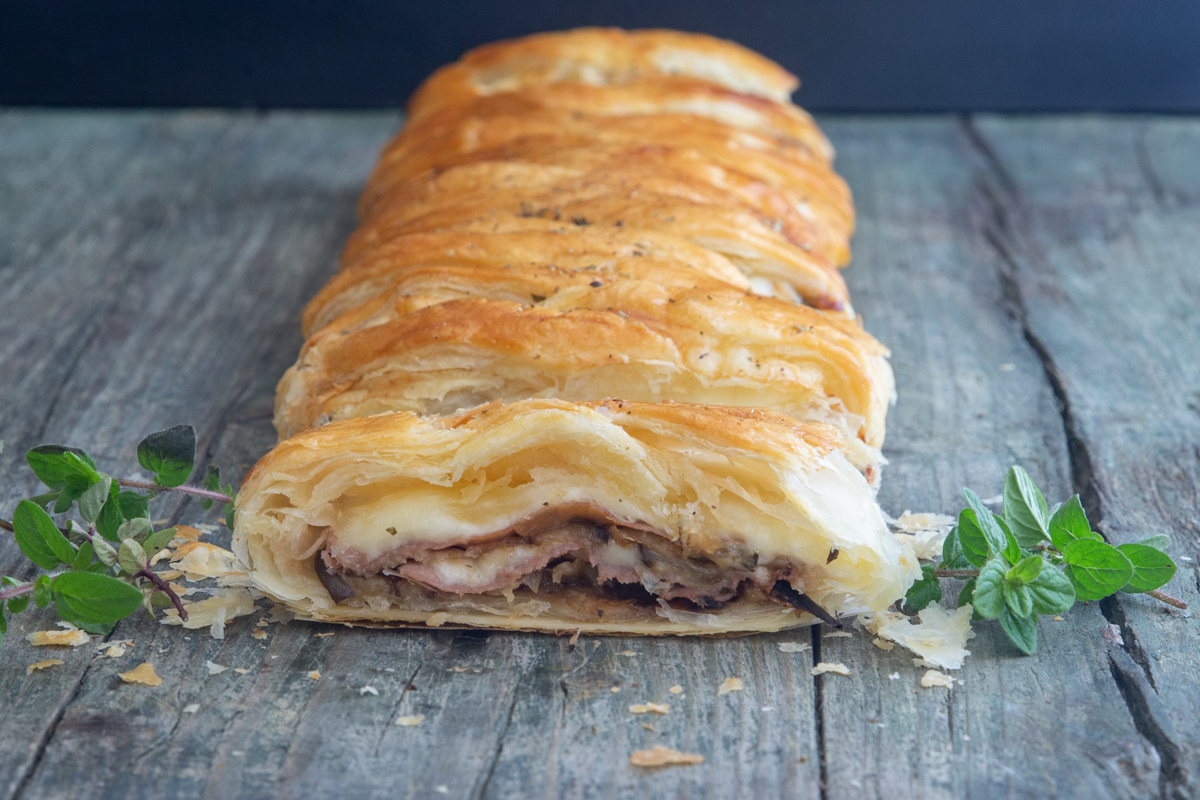 FAQ
Do you cook the eggplant first?
Yes, you will need to grill the eggplant before adding it to the strudel. Thinly slice it and then grill the slices on an outdoor grill or in a grill pan on the stove. Once cooked, you can refrigerate the slices until you are ready to use them.
Can you freeze a cheese strudel?
Yes, it freezes great. Assemble the strudel as instructed and then wrap it tightly in plastic wrap and place it on a baking sheet. Freeze it on the sheet and then store it in a freezer container for up to three weeks. You can bake it frozen, but you will need to add some time to the baking time.
How long do leftovers keep?
The leftovers will keep for two to three days in the refrigerator. Keep them wrapped or in an airtight container.
A savory strudel is always delicious especially when it's stuffed with eggplant and cheese. It's easy to do and perfect any time of day. I hope you enjoy it – Buon Appetito!
More Eggplant Recipes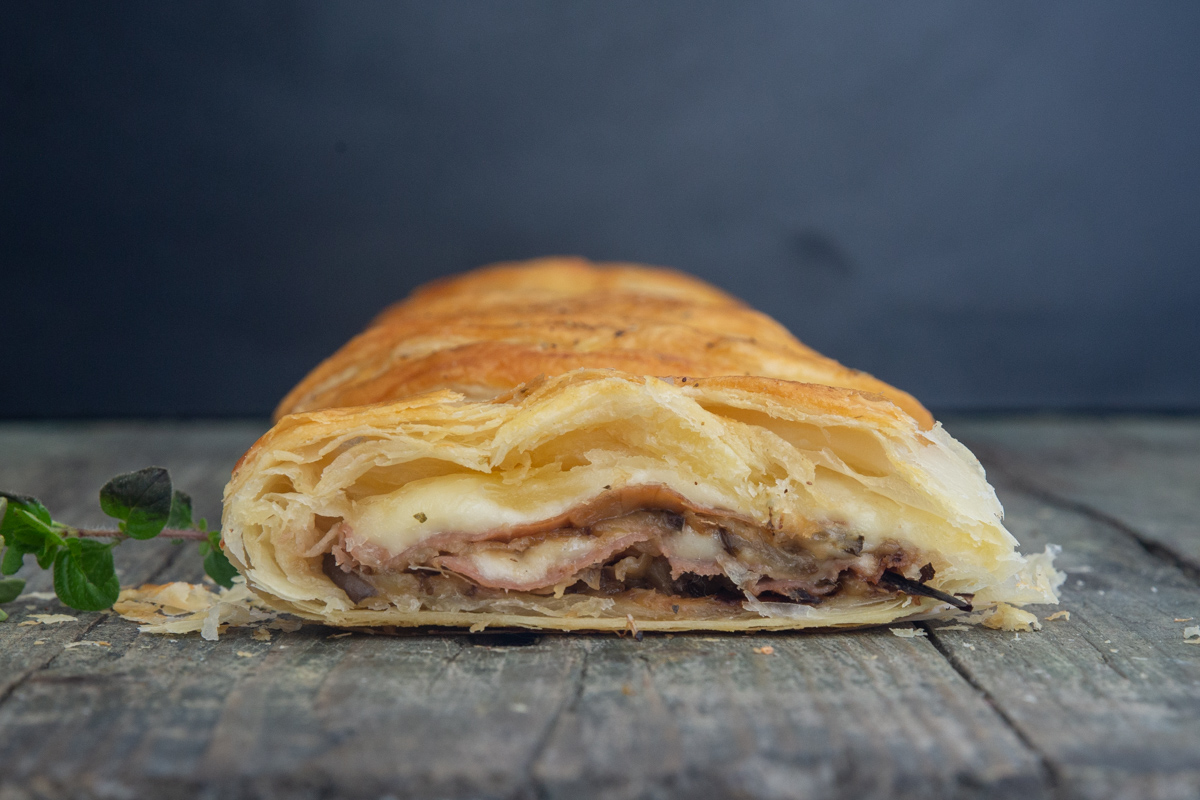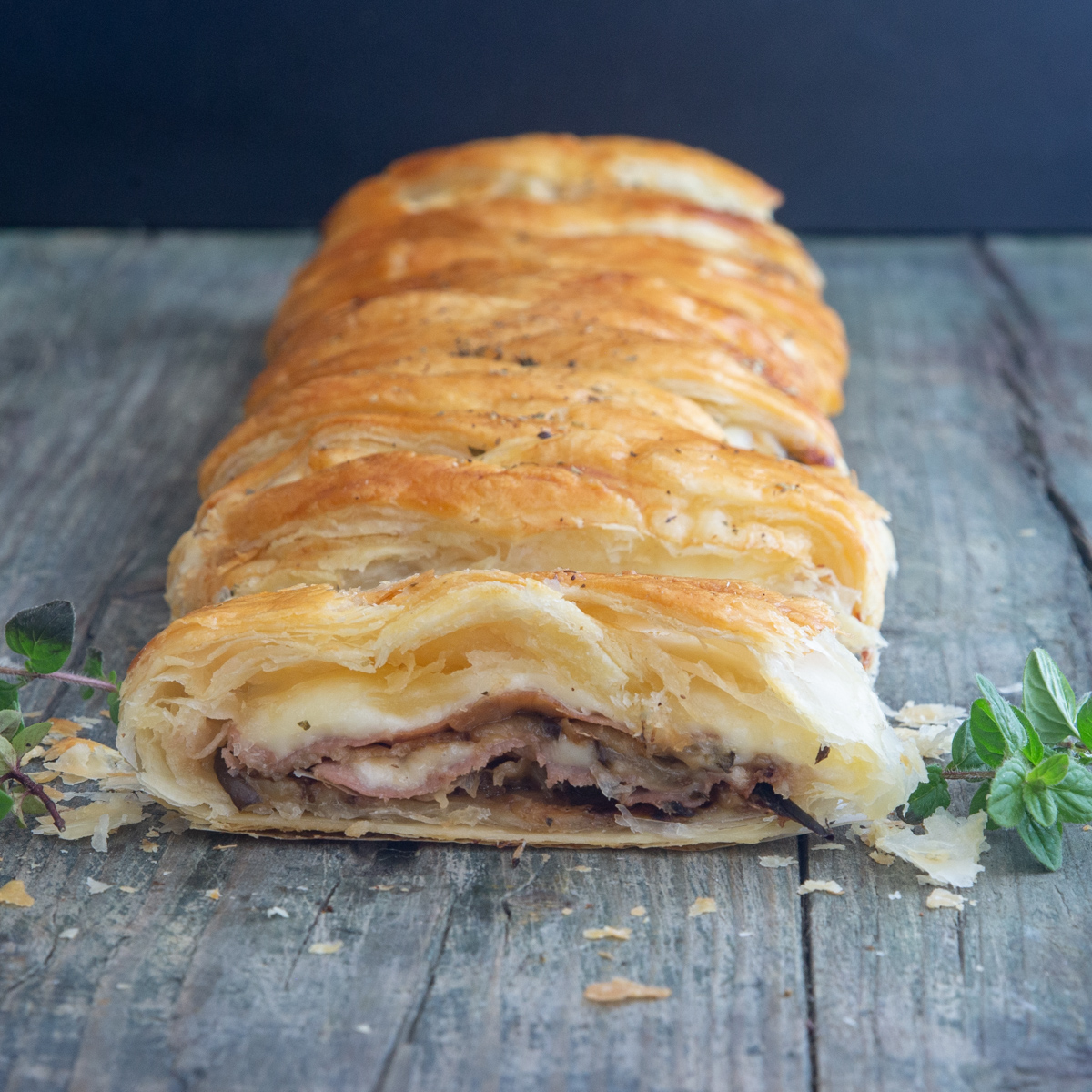 Eggplant Cheese Strudel Recipe
A savory cheese strudel with eggplant and prosciutto wrapped in flaky puff pastry is delicious for lunch or dinner. Serve it warm or cold for an easy meal.
Ingredients
1

puff pastry rectangular roll (thawed)

15-20

slices

grilled eggplant

1-2

tablespoons

olive oil

¼

teaspoon

salt

1

tablespoon

Italian parsley (minced)

6-8

slices

Prosciutto di Parma

1-2

cups

cheese shredded (firm mozzarella, gruyere, fontina, edam)

1-2

tablespoons

milk
Instructions
Pre-heat oven to 375F (190C). Line a cookie sheet with parchment paper.

Clean and peel the eggplant (1-2 medium should do) and thinly slice. Using either a pan grill or bbq grill the slices of eggplant on both sides. Place in a large bowl and toss with olive oil, salt and parsley. Set aside.

Roll puff pastry a couple of time with a rolling pin. Place half the eggplant overlapping down the middle of the dough, top with half the slices of prosciutto and sprinkle with half the cheese, repeat the layer.

Make slits on the sides of the dough until you reach the filling. Criss cross cut slits over the mixture. Place on prepared cookie sheet. Brush with 1-2 tablespoons of milk and bake for approximately 25-30 minutes or until golden. Slice and serve. Enjoy!
Notes
Cover the leftover strudel loosely with plastic wrap or foil. It will keep in the refrigerator for 2-3 days. It can be re-heated in a low oven before serving.
The strudel can also be frozen before baking. Wrap it in plastic wrap and place on a cookie sheet, place it in the freezer for a few hours or until firm and frozen. Then place the wrapped strudel in an airtight freezer safe container or bag and place again in the freezer. It will keep for up to 2-3 weeks. Bake it straight from the freezer, although it will need a bit more time baking.
If your eggplant is bitter or not very tender, then slice and toss with 1/2 teaspoon of salt, let sit for 30 minutes then drain but do not rinse. Then toss with olive oil and parsley (leave out the salt). 
Nutrition
Calories:
272
kcal
Carbohydrates:
19
g
Protein:
7
g
Fat:
19
g
Saturated Fat:
7
g
Polyunsaturated Fat:
2
g
Monounsaturated Fat:
9
g
Trans Fat:
1
g
Cholesterol:
19
mg
Sodium:
206
mg
Potassium:
227
mg
Fiber:
3
g
Sugar:
3
g
Vitamin A:
165
IU
Vitamin C:
2
mg
Calcium:
114
mg
Iron:
1
mg