This is an easy tuna steak recipe with fresh tomatoes and parsley – it's ready in less than 30 minutes! This simple dish does need a lot – the combination of the tomatoes and herbs is perfect with the tuna. It's an easy weeknight dinner you can serve with salad and bread on the side.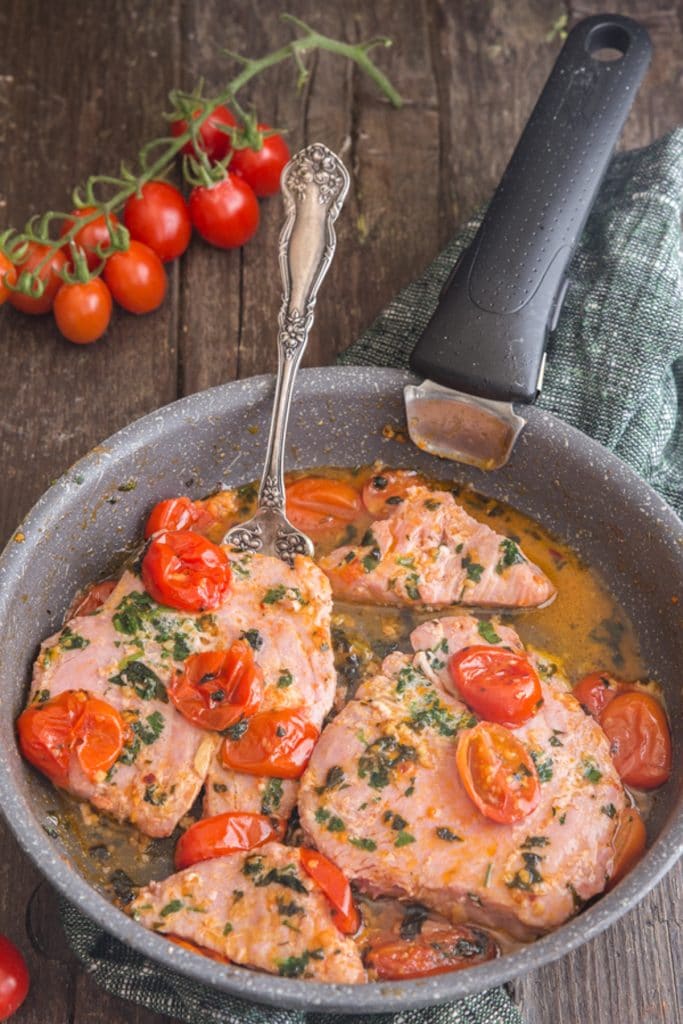 Some of my most favorite recipes are almost not even recipes. They have so few ingredients I don't even need to pull out the recipe to remember how to make them. This pan-fried tuna steak recipe is one of those dishes.
Just five ingredients and 25 minutes to make it – that's it. The tuna cooks very fast and all you need to add are some fresh tomatoes and parsley. The tomatoes burst and release their juices as they cook creating a light sauce with the olive oil. The parsley adds lots of freshness. It really is a wonderful dish.
I especially love it when tomatoes are in season and the weather is still warm before fall arrives. It's light and flavorful and once you try it you'll have it memorized, too.
Ingredients
Tuna steaks – mine were about an inch (2.5cm) thick
Olive oil
Minced garlic cloves
Sliced grape tomatoes
Finely chopped Italian parsley
How to Make It
Combine the oil, garlic, tomatoes, and half of the parsley in a large pan. Cook them for three to five minutes over medium-high heat.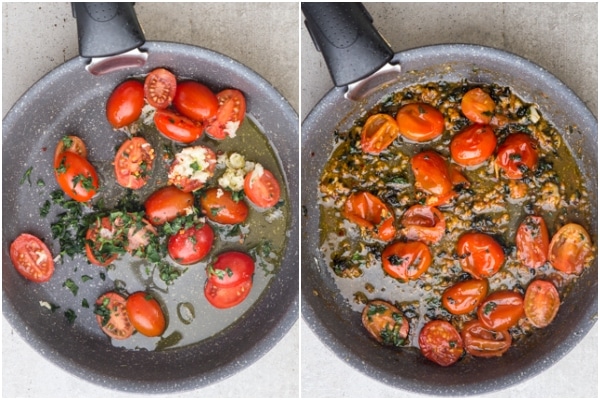 Place the tuna steaks in the pan and cook them for two to three minutes on each side. To serve, place the steaks on plates and spoon the tomatoes and light sauce over the top. Garnish with the rest of the chopped parsley.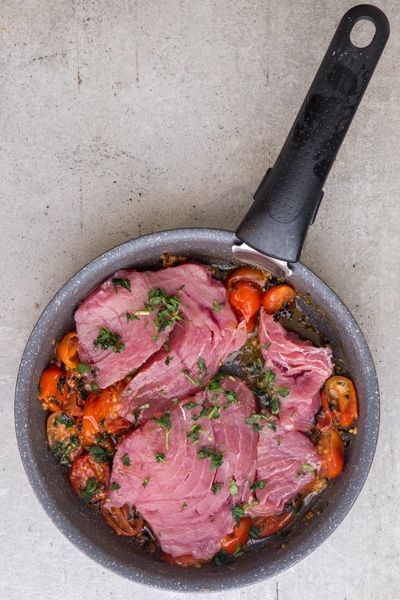 How rare should tuna steaks be?
You can cook them all the way through, but I think tuna steaks are best medium-rare or still a little pink in the center. They can dry out if they are overcooked.
Recipe Tips
I don't add salt to this dish because the tuna is a salty fish. If you feel like it needs salt, add a pinch or two at the end of the cooking time.
You can use any kind of tomato for this recipe, but I like grape or cherry tomatoes because they are a little sweeter. If you use larger tomatoes you will need to cut them into bite-sized pieces.
You can switch the parsley for another fresh herb like torn basil leaves, fresh thyme, or sliced chives.
Leftover pan-fried tuna steaks will keep for three to four days in the refrigerator.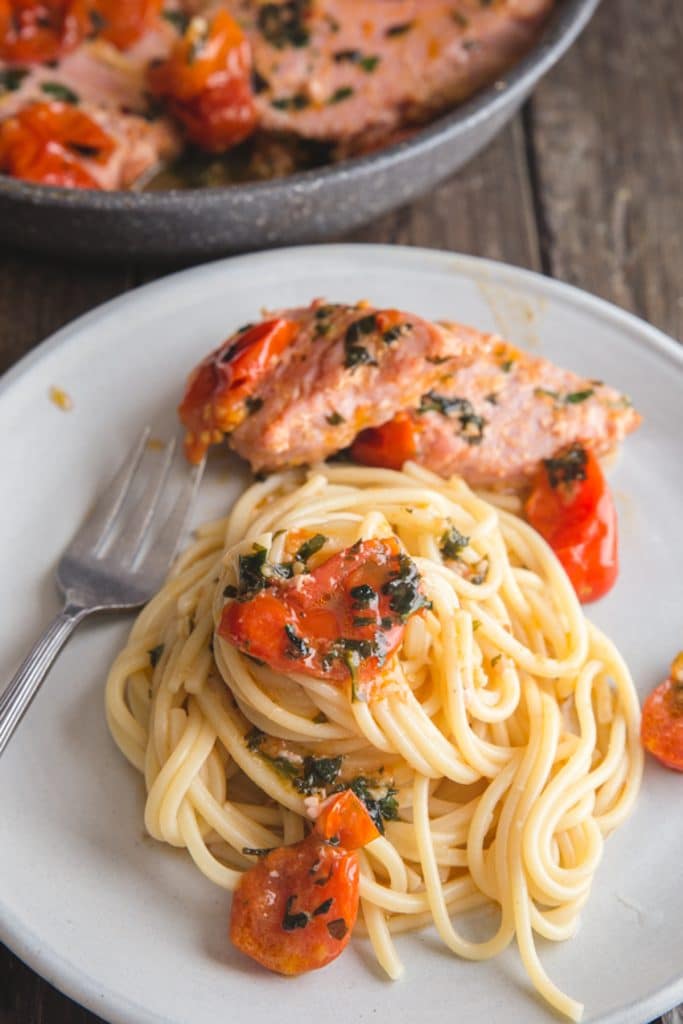 Side Dish Ideas
It doesn't get any easier than this simple tuna steak recipe. It's always a favorite at our house – it will be at yours, too. Give it a try and be sure to let me know what you think. Enjoy!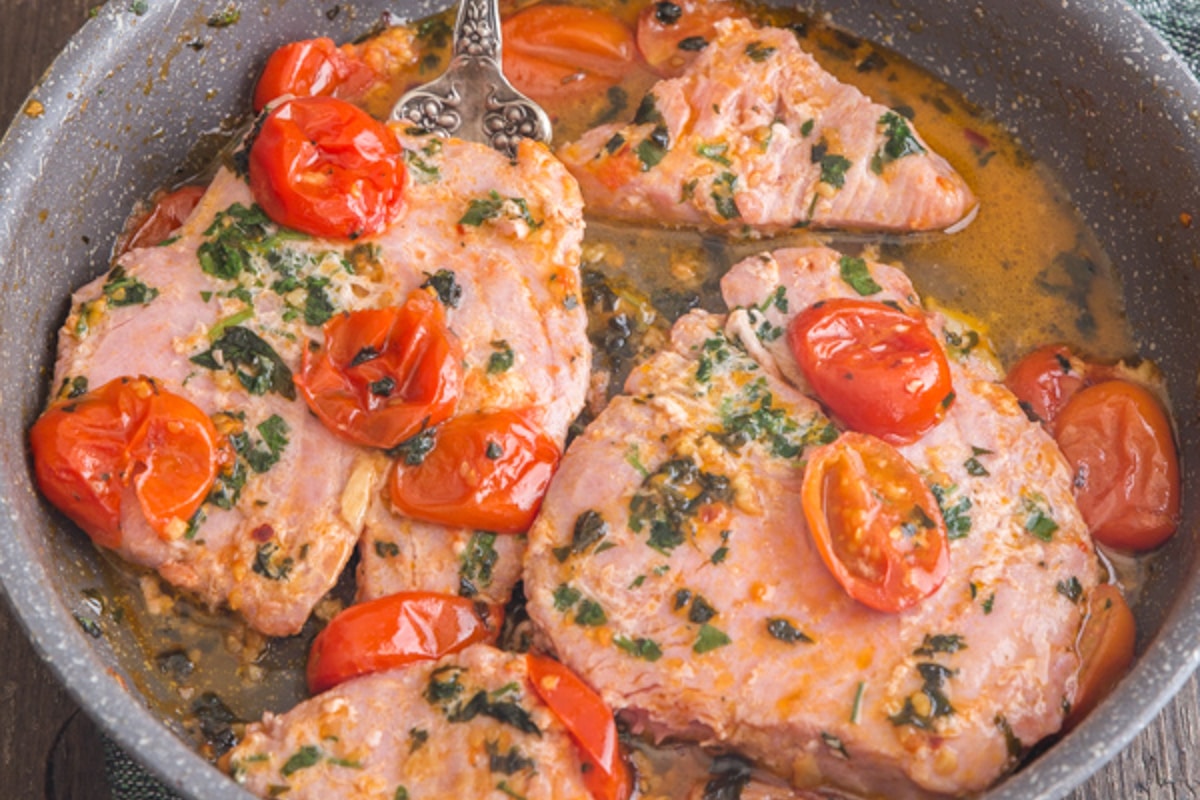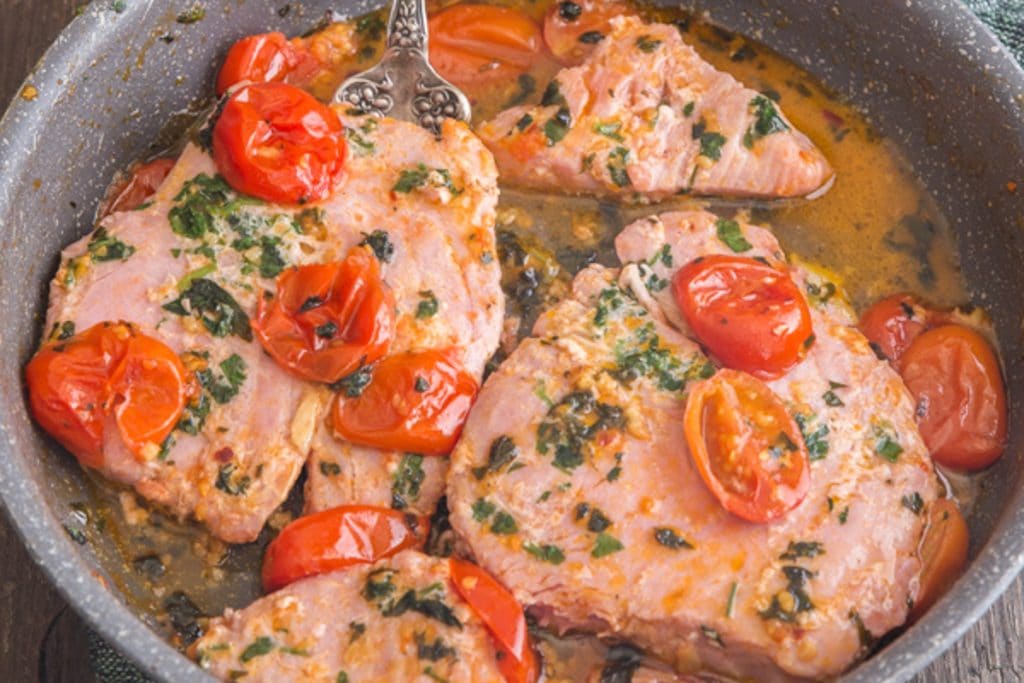 More Easy Recipe with Tuna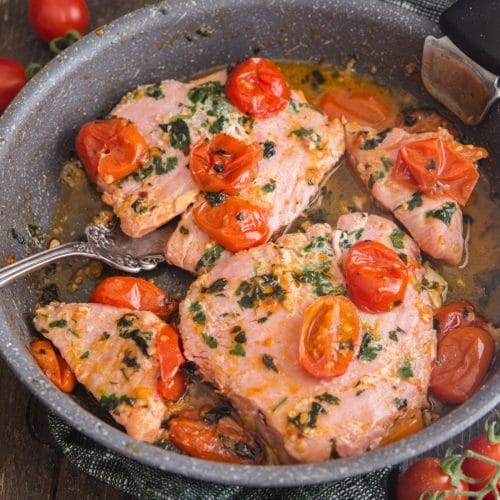 Pan Fried Tomato & Tuna Steak Recipe
Ingredients
2

tuna steaks (about 1 inch / 2.5 cm thick)

2-3

tablespoons

olive oil

1-2

cloves

garlic (minced)

10

grape

tomatoes (sliced in half lengthwise)

1-1½

tablespoons

fresh Italian parsley finely chopped (divided)
Instructions
In a medium/large frying pan add the oil, garlic, tomatoes and half the parsley, cook 3-5 minutes on medium high heat, add the tuna steaks and cook 2-3 minutes on each side. Serve immediately. Enjoy!
Notes
Because tuna can be a salty fish you may not want to add any additional salt.
The internal temperature for cooked tuna should be 130 – 145F (55-62C).
Leftover pan-fried tuna steaks will keep for three to four days in the refrigerator.
Nutrition
Calories:
373
kcal
Carbohydrates:
1
g
Protein:
40
g
Fat:
22
g
Saturated Fat:
4
g
Polyunsaturated Fat:
4
g
Monounsaturated Fat:
13
g
Cholesterol:
65
mg
Sodium:
69
mg
Potassium:
463
mg
Fiber:
1
g
Sugar:
1
g
Vitamin A:
4006
IU
Vitamin C:
5
mg
Calcium:
21
mg
Iron:
2
mg