Skillet Zucchini Shrimp Pasta, don't know what to make with all those zucchini, this fast and easy sautéed Zucchini, Shrimp and Spaghetti is one of the best choices for dinner tonight or any night.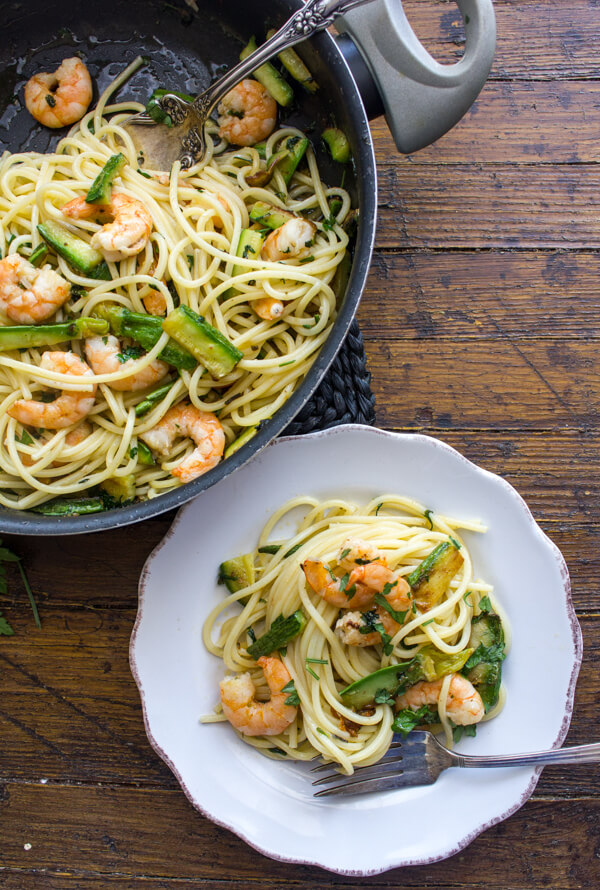 One of the good things about being back in Italy is that I am never short of gifts from my mother-in-law, sometimes better than diamonds (ok I won't exaggerate but close!) Zucchini, Eggplant, Tomatoes, Peppers etc,  it seems like it is never-ending.
And she said this summer was a bad year, too much rain, an over load of snails that are eating everything in sight. Doesn't seem to be affecting the zucchini though. But then again what does?
It is a good thing there are so many great zucchini recipes out there, including this one. Zucchini and Shrimp pasta is a must try. Fast, easy and yes Pasta can be healthy too!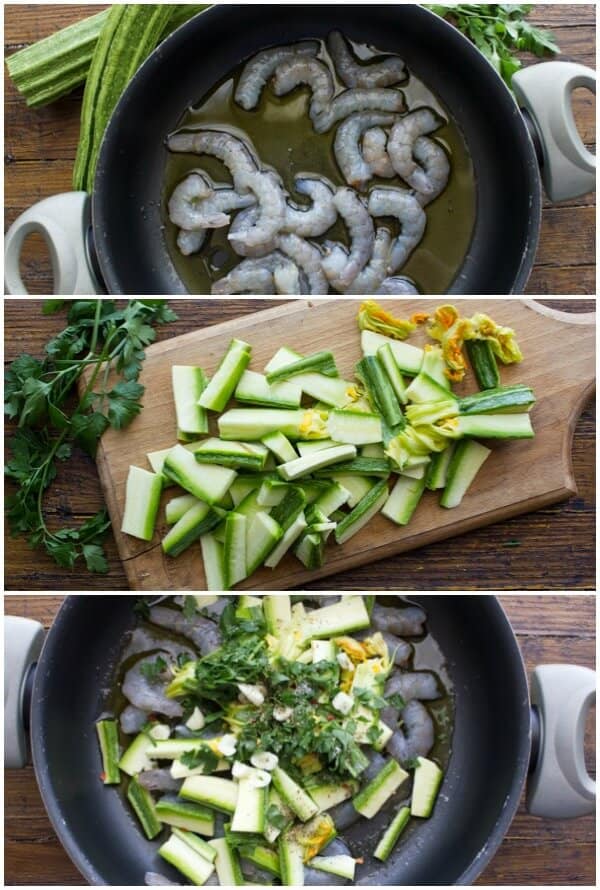 After being away for two months I went to give my mother-in-law a hand with her garden this evening. It took almost the whole evening, between picking  the beans, eggplant, zucchini,peppers, lettuce  and tomatoes.
I went home with bags full of the most beautiful vegetables. With all these amazing vegetables it doesn't seem that it would be too difficult to live  without meat.
Although in this recipe I did throw in some shrimp. Believe it or not,  Shrimp and Zucchini go really well together, who would have thought? It has become one of my favourite Summer Pasta Dishes.
Skillet Zucchini Shrimp Pasta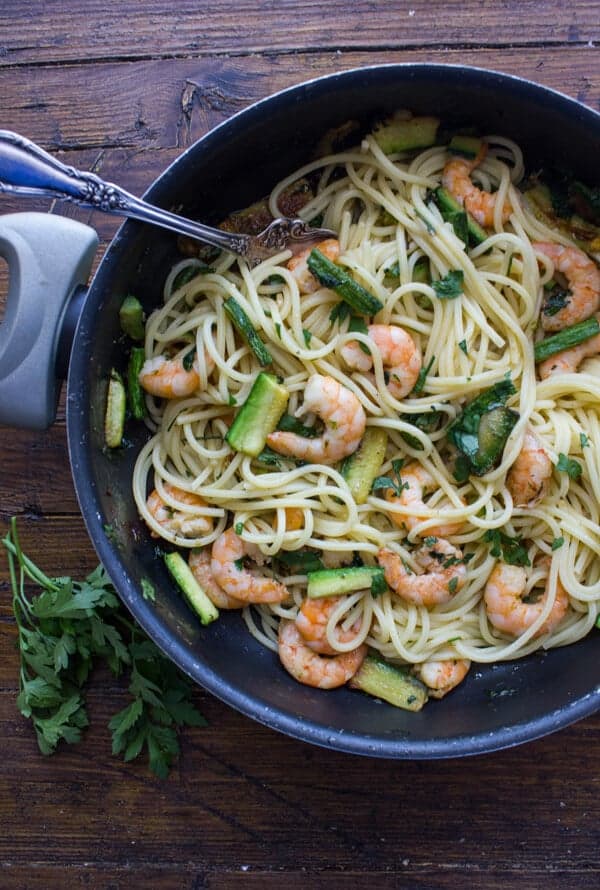 Maybe only an Italian. Anyway sauteing all of these tasty ingredients together is really something worth trying and it doesn't take much time at all.
This is a delicious dish to make for friends or family or just because there are so many zucchini hanging around and you know you need another really tasty recipe. Enjoy with wine of choice and Buon Appetito!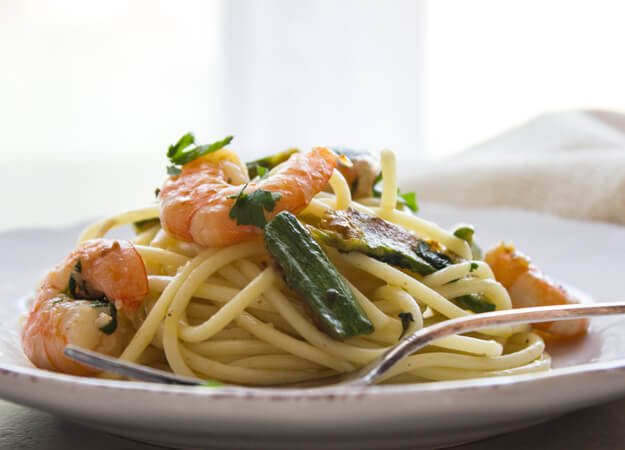 Skillet Zucchini Shrimp Pasta
A delicious summer pasta dish, an easy, healthy fast Italian meal. The perfect zucchini recipe for weekday or even weekend cooking.
Ingredients
3 small or 2 medium zucchini cut slim wedges

1/2

pound

fresh or frozen medium shrimp

250 grams

1/4

cup

olive oil

50 grams

1/4

cup

chopped fresh Italian parsley

7 grams

1-2

cloves

garlic chopped

1

teaspoon

oregano

3/4 gram

1/2

teaspoon

salt

2 1/2 grams

hot pepper flakes to taste
Instructions
In a medium- sized pan add olive oil,garlic, shrimp and zucchini, top with salt, oregano, hot pepper flakes and chopped parsley. Stir gently to combine, cook covered on low to medium heat for approximately 15 minutes, uncover and raise the heat a bit, stirring occasionally until liquid has evaporated (liquid from the shrimp and zucchini), Zucchini should be tender but not mushy. Toss with 3 cups cooked pasta, serve immediately. Enjoy!
Nutrition