Vanilla Chocolate Thumbprint Cookies, a delicious vanilla cookie rolled in cocoa and baked, don't forget to top it off with your favourite chocolate.
You might say these Chocolate Thumbprint Cookies are continuing with cookie week. With only two and a half weeks until Christmas I bet you are either baking cookies now or are going to start this weekend.
If you are looking for some great and classic cookies you have got to try My Mom's Shortbread, Crescents or Whipped Shortbread, and of course my favourite bar Cookie Coconut Jam Squares (I throw this one in every chance I get)!
My Mom would make a Thumbprint Cookie every year and this year I did too. A yummy Lemon Thumbprint Cookie filled with Italian Pastry Cream.
So why did I decide to make another type? Well for two reasons, one I received a comment from a reader asking what could be substituted for the nuts since he had friends who were allergic and two because I had an extra bag of kisses in the freezer.
Of course the Italian thought it was a great idea since he liked the first batch so much. Naturally he put his two cents in. He is a lover of cocoa, his motto – "don't sprinkle with powdered sugar use cocoa instead".
Vanilla Chocolate Thumbprint Cookies
So I used basically the same cookie dough recipe and I rolled the balls in  unsweetened cocoa powder. Then while they were still warm from the oven, we topped them off with a cookies and cream kiss.
They actually came out looking like Crinkly Thumbprint Cookies, so however you wish to top these off with a kiss of choice, some chocolate chips or even your Favourite Filling, I hope you like Vanilla Chocolate Thumbprint Cookies. Have fun baking and Enjoy!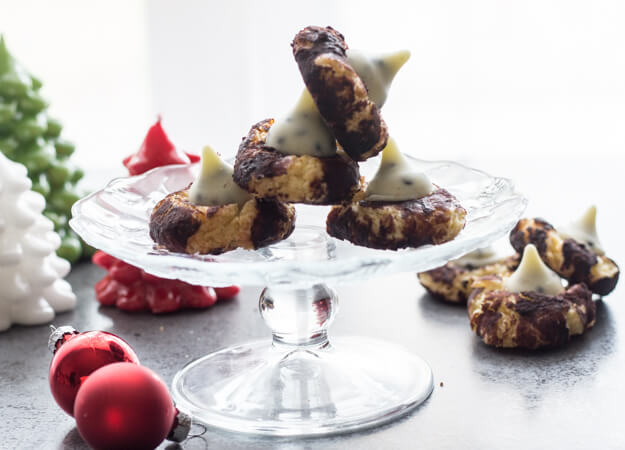 Vanilla Chocolate Thumbprint Cookies
Vanilla Chocolate Thumbprint Cookies, a delicious Christmas Cookie recipe, fast and easy and perfect with a kiss of choice.
Ingredients
1 1/2

cups

flour

(195 grams)

1

pinch

salt*

3/4

cup

butter (softened)

(158 grams)

1/2

cup

granulated sugar

(100 grams)

2

large

eggs (separated)

1

teaspoon

vanilla

1/4

cup

unsweetened cocoa (more if needed)
*If using unsalted butter then add 1/4 teaspoon of salt.
Instructions
Pre-heat oven to 350° (180° celsius). Line cookie sheets with parchment paper.

In a medium bowl whisk together, flour and salt, set aside.

In a large bowl beat at medium speed, butter and sugar until light and fluffy, approximately 2 minutes, add egg yolks and vanilla, beat until just combined. Stir in flour mixture with a wooden spoon until combined.

Roll dough into approximate 1 inch balls (2 centimeters).

Place egg whites in a small bowl and cocoa in another bowl. First roll balls in egg whites and then in cocoa, place on lined cookie sheets about one inch apart. Gently make an indentation with your thumb in every ball. Bake for approximately 15 minutes, at the halfway point check to see if the centres have puffed up, if yes, then using the end of a wooden spoon gently indent again. Remove from oven, wait a couple of minutes and then place one unwrapped kiss of choice in the middle or let cool completely and fill with Chocolate Pastry Cream or filling of choice. Enjoy!
Nutrition