Nutella Peanut Butter Chip Easy No-Churn Ice Cream, made with Cream, Sweetened Condensed Milk, Nutella and Mini Peanut Butter Chips. Fast and Easy No-Churn Ice Cream, can't get much better than that.

A few weeks ago I was looking over my Canadian Chocolate Stash in the freezer wondering if I had anything left. And I happily discovered a bag of Mini Peanut Butter Chips, Yayyy. What to do? Well first of all take a handful and do a taste test. You have to make sure they are still edible. 😉
So then second thing was,  I had to decide what to make. My first creation was a Cookies and PB Chocolate Ice Cream Parfait, which I made about a month ago.
You know you can't go wrong with Chocolate and Peanut Butter I always say. And now the next best combination Nutella and Peanut Butter, trust me it's a good one. All you have to do is taste this No-Churn Ice Cream and you will understand.
Just ask my youngest daughter who is a I-love-Nutella-but-you-can-have-the-Peanut-Butter-kind-of-girl, decided that Peanut Butter Chips were really not too bad and that this Easy No-Churn Ice Cream was amazing.
Nutella Peanut Butter Chip Easy No-Churn Ice Cream
Even the Italian is quite impressed with these Easy No-Churn Ice Cream Recipes and no, he doesn't think I am overly obsessed. He just keeps eating them and eating them and asking "what's next?"
Once you start getting into the habit of making your own Ice Cream or Gelato with or without a machine, believe me you will be making your own this summer and wondering how you ever ate store-bought.
This Ice Cream recipe is so fast and simple the kids will love giving you a hand making it and not just eating it. So get out those extra mini Peanut Butter Chips and start making some Ice Cream. Enjoy!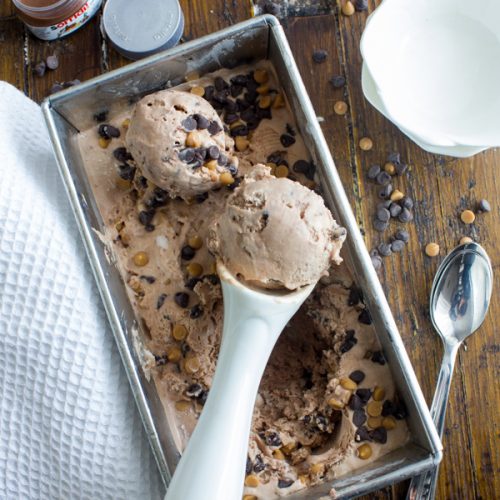 Nutella Peanut Butter Chip Easy No-Churn Ice Cream
Homemade Nutella Peanut Butter Chip is an Easy No-Churn Ice Cream, a fast and easy Ice Cream Recipe. A delicious summer dessert.
Ingredients
1

cup

+ 3 1/2 tablespoons whole/whipping cream

300 ml

1/2

cup

sweetened condensed milk

116 grams

1/4

cup

Nutella

70 grams

1/4

grams

mini Peanut Butter chips

45 grams
Instructions
Thin out the Nutella a little, either by placing in a bowl over a pot of boiling water or microwave.

In a small bowl whisk together Nutella and sweetened condensed milk. Stir to combine.

In a cold bowl with cold beaters (I place mine in the freezer for about 15-20 minutes).Whip cream until stiff (be careful not to make butter).

Add a little whipped cream to the Nutella/sweetened condensed milk mixture to make it easier to combine, then fold in the rest of the whipped cream mixture, and then gently fold in Peanut Butter chips.

Place into a loaf pan 8x4 inch (20x10 centimeters). Then either cover in plastic or place loaf pan in a large ziplock bag and freeze at least 3- 5 hours until frozen or even overnight. Enjoy!
Nutrition