A delicious cookie base filled with a creamy Nutella Sauce and don't forget the chocolate chips, so yeah, Look Out Carmelitas Here Come The Nutellitas. You may even love them more!
You are probably thinking, oh that poor woman the heat must be getting to her. Haha, not just the heat but it seems that everywhere I look on social media these last few days, I see someone has made some amazing looking Carmelitas.
I love caramel, and every time I see them I want them! They just seem like one of the most decadent Cookie Bars that I could absolutely love. And who doesn't love all that caramel and chocolate?
But as life would have it, no caramel for Italians. I suppose I could make a homemade Caramel Sauce, but it's soooo hot and I am feeling quite lazy these days.
So I thought what could I substitute for the caramel? Well, what ingredient is so readily available in this country that you see everywhere? From mini size, to extra extra large jars?
Every time I see those large Jars it brings back memories of when I go home to Canada or visit the States. I always see these enormous Jars,  Bottles or even Packages of sauces or cookies.
Anything and everything. But here the only humongous Jars I ever see are,  you got it Nutella!
And there you have my substitute for Caramel, yup Nutella. After reading the recipe, I got the impression that it is very much like a Crumb Cake, except with the addition to Rolled Oats in the crust.
Rolled Oats in Italy are quite large so I put them in my food processor and pulsed a few times just to break them up a bit.
I mixed them with some brown sugar, baking soda, flour, a pinch of salt and melted butter. Half the mixture went on the bottom of the prepared baking pan, which was pressed down flat and baked for about 10 minutes.
While it was baking I heated the Nutella and Whole Cream together and don't forget to keep stirring until it becomes silky smooth.
Look Out Carmelitas Here Come Nutellitas
Immediately after removing the base from the oven I sprinkled it with some OK a lot of mini dark chocolate chips, maybe too many? Nah I don't think so.
I topped it with the creamy Nutella Sauce and sprinkled the top with the remaining half of the dough. Into the oven it went for approximately 20 minutes.
This is where you really have to be patient, you have to let the Nutellitas cool because they need to firm up. But don't worry they will still be soft and wonderfully rich.
So what I did was I let them get to room temperature and then I covered the pan with foil and put it in the fridge for a couple of hours. Just to speed up the process!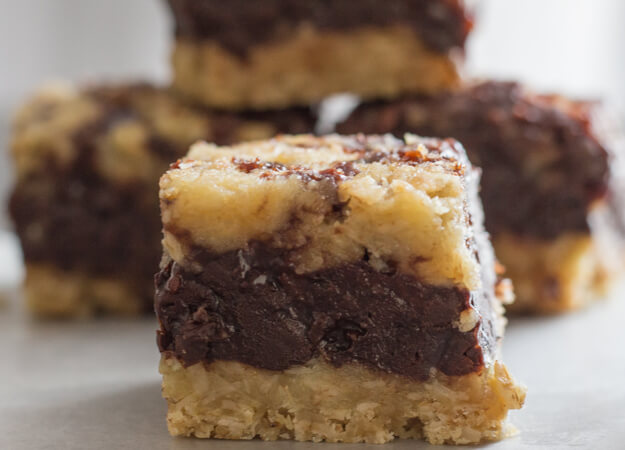 Don't forget to grease and flour your cake pan well and the bars will just slip right out. Then all you have to do is cut the Nutellitas into pieces, serve and eat. Enjoy!
Look out Carmelitas here come Nutellitas
Nutellitas are an easy decadent Cookie Bar Recipe based on Carmelitas, made with Nutella, Oatmeal and chocolate chips. So good, the Best.
Ingredients
3/4

cup

Nutella

200 grams

1/2

cup

heavy cream

115 grams

3/4

cup

butter melted

170 grams

3/4

cup

brown sugar

150 grams

1

cup

rolled oats (not instant) (if the oats are large, place them in a food processor and pulse a few times to break them up, but be careful they don't turn to powder)

90 grams

1

cup

flour

125 grams

pinch of salt

1/2

teaspoon

baking soda

3 1/2 grams

1 1/4 - 1 1/2

cups

mini dark / semi sweet chocolate chips

219-262 grams
Instructions
Pre-heat oven to 350° (180° celsius), grease and flour an 8 inch (20 centimetersquare cake pan.

In a medium bowl add melted butter, brown sugar, rolled oats, flour, salt and baking soda, mix well.

Place half the mixture (I used a little more than halon the bottom of the prepared cake pan and bake for 10 minutes.

Meanwhile in a small pot add Nutella and Cream, over low heat whisking constantly until smooth. Set aside.

Remove pan from oven and immediately sprinkle with chocolate chips, spread the Nutella Cream mixture and then sprinkle with remaining dough. Bake 15-20 minutes or until edges are slightly browned. Remove from oven and let cool to room temperature, the cover with foil and refrigerate for approximately 2 hours or even overnight. Cut into squares and serve. Can be frozen for up to 4 months. Enjoy!
Nutrition