With the arrival of Christmas and all the festivities and parties that come along the fun we have a lot of laughing and talking with friends and family during this beautiful holiday. Not only do we have to think about gift shopping and decorating but also cooking and baking! From the appetizer to the main course to the dessert.
When I have friends over around holiday time I like to make things that are relatively quick and easy, but of course super tasty. These sweet or savory crescents are perfect. They have an amazing cream cheese pastry, strange I know,  but you have no idea how yummy  these are. I usually fill these crescents with a sweet filling but since my daughters are always looking for something a little less sweet I decided to add a savory filling instead.
The filling I  made was with broccoli and shredded mozzarella cheese, but you could pretty well combine a number of tasty veggies or different types of cheese. Although the sweet crescents cannot be ignored, the combination of brown sugar, cocoa and chopped walnuts are amazing. They must have been, because my husband almost finished them off in one sitting.
The dough for these sweet and savory crescents comes together very easily and quickly especially if you use a food processor. I bought my food processor a few years ago and all that time that I was making dough by hand! I have no idea why I never used it, to tell the truth I don't think I ever thought it was capable of doing much, but Oh my goodness, that thing can do almost everything. I now use it all the time for making my pastry dough, just pulse enough times to bring the dough almost together, and continue by hand, even making whipped cream is fast and easy.
Next time you are looking for a delicious, easy appetizer and or dessert, give these sweet or savory crescents a try, you won't be disappointed. Enjoy!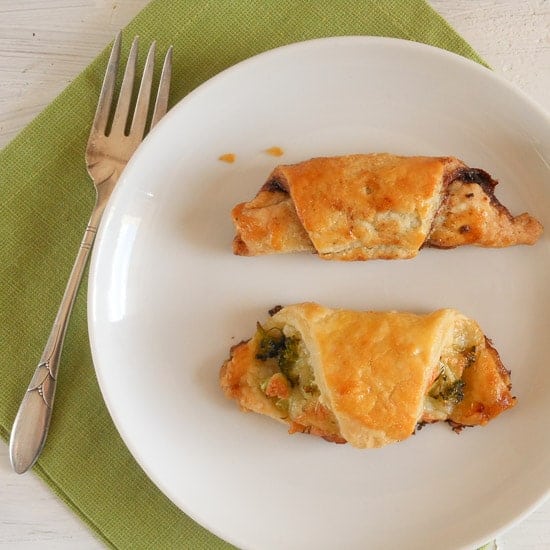 Sweet or Savory Crescents
Ingredients
FOR THE PASTRY

1/2

cup

cold butter

125 grams

1

cup

flour

128 grams

4

ounces

cream cheese

125 grams

FOR THE SWEET FILLING

m

Strawberry jam

I use strawberry but any kind of berry I' sure would work

2

tablespoons

brown sugar

26 grams

2

tablespoons

chopped walnuts

14 1/2 grams

1/2

tablespoon

cinnamon

3 grams

1/2

tablespoon

cocoa

3 1/2 grams

FOR THE SAVORY FILLING

1/2

cup

shredded mozzarella cheese

65 grams, firm not fresh

3/4

cup

broccoli chopped in very small pieces

50 grams

pinch of salt

drizzle of olive oil
Instructions
Combine cut up butter and flour with a pastry blender till it resembles coarse crumbs. Cut in the cream cheese and again with the pastry blender blend until crumbly. Then bring the dough together with your hands and knead a few times to form a soft smooth dough. (instead of using a pastry blender you could use a food processor). Wrap in plastic wrap and refrigerate for approximately 30 minutes to an hour.

While dough is in the refrigerate start to prepare your filling.

FOR THE SWEET FILLING

In a small bowl add the brown sugar, nuts, cinnamon and cocoa stir to combine.

FOR THE SAVORY FILLING

In a small bowl add chopped broccoli,pinch of salt and a drizzle of olive oil, stir to combine. Keep the shredded mozzarella separate.

Pre-heat oven to 350° (180° celsius)

Remove dough from the refrigerator, separate dough into two parts, roll out one part at a time on a flat surface dusted with flour, roll into a circle about 10 " (25 centimeters) (or as close to a circle as you can get), for the sweet filling, spread the circle with a thin layer of jam and sprinkle with the brown sugar mixture, pat down firmly and then cut the circle in 9 or 10 wedges, for the savory, I cut the circle into wedges first and then one wedge at a time I added some shredded cheese, broccoli, and a bit more cheese, roll each wedge (sweet and or savory) starting with the large edge to the point. Lightly grease two cookies sheets or line with parchment paper. Place crescents on the sheets and brush lightly with a beaten egg. Bake for approximately 20-25 mintues or until golden. Serve warm. Makes 18 crescents. Enjoy!