Apple Butter Cinnamon Rolls are the perfect addition to any breakfast. These no yeast Cinnamon Rolls are fast, easy and filled with delicious homemade Apple Butter, then drizzled with a creamy Maple Frosting.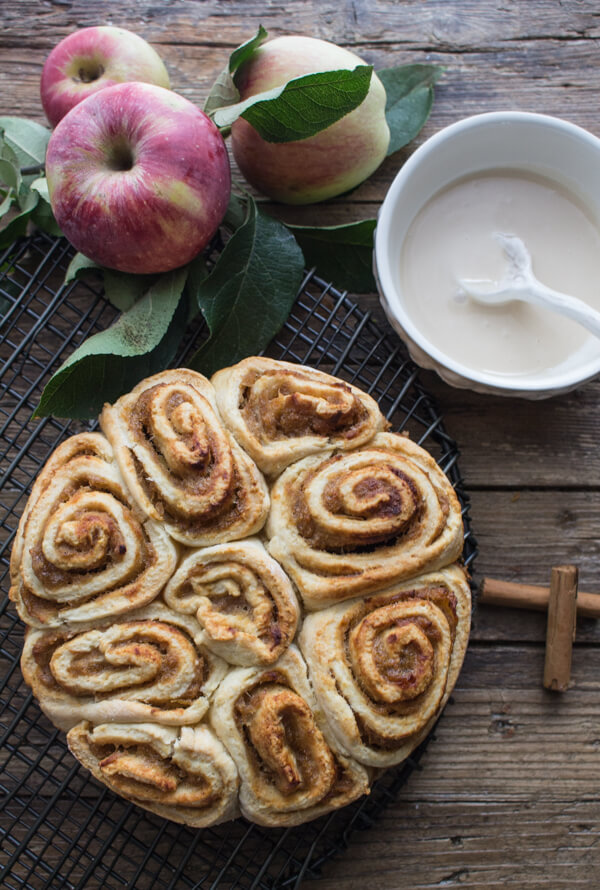 The other day I shared my Stove Top Apple Butter which was quite delicious. The reason I decided to make Apple Butter was because I wanted to make my Mom's amazing Brown Sugar Pinwheels  and I thought that it would make the perfect filling.
I know a lot of people use it as a dip or as a spread on toast. I actually wanted to make it for the Italian to put on pancakes as a change from Syrup, ah yes the Italian loves his pancakes!
The recipe actually made enough for a couple of recipes I have in mind. So I thought this no yeast biscuit dough that my Mom always used for her pinwheels would work perfect with a filling of Apple Butter.
These Cinnamon Buns are so fast and easy to make. No mixer or food processor needed all mixed together in a large bowl, and then gently kneaded to form a soft dough. You don't even have to refrigerate it.
I rolled out the dough then I spread it with the filling, rolled it up and sliced it. Before placing the rounds in a 7 inch cake pan, I buttered the pan and sprinkled a little brown sugar on the bottom. They were baked in about 30 minutes.
While they were cooling I made a delicious Maple Frosting, using some of the Syrup I brought back with me from visiting back home in Canada. If you notice I frosted half. My husband prefers them plain. Save the syrup for the pancakes his is motto!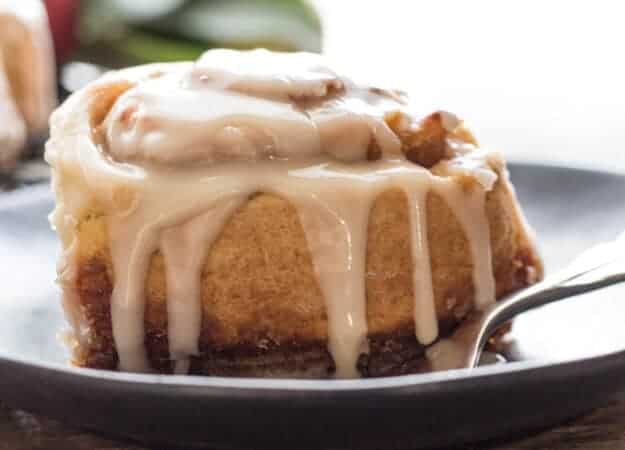 When you are craving a Cinnamon Roll but don't have the time these Apple Butter Cinnamon Rolls are the perfect solution. Especially when you drizzle them with a little Maple Frosting! Enjoy!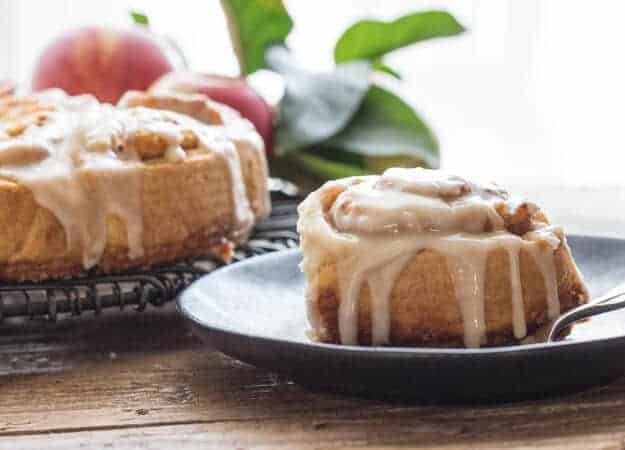 Apple Butter Cinnamon Rolls with Maple Frosting
A quick and easy no yeast dough filled with a yummy Apple Butter filling and topped with a creamy Maple Glaze.
Ingredients
FOR THE DOUGH
2

cups

flour

1

tablespoon

baking powder

1

teaspoon

salt

1/4

cup

butter softened

1/2

cup

milk

2-3

tablespoons

milk (add the tablespoons of milk one at a time to reach a soft dough)
MAPLE FROSTING
1/2

cup

powdered/icing sugar

1/2

teaspoon

vanilla

2

tablespoons

maple syrup

1/2

tablespoon

milk (depending on how thick you like it)
Instructions
Pre-heat oven to 350°. Butter and sprinkle with approximately 2 tablespoons brown sugar a 7 inch cake pan.
FOR THE DOUGH
In a large bowl whisk together flour, baking powder and salt, with a pastry blender cut in butter until it resembles coarse crumbs, add milk and with a fork mix until mixture is almost combined, turn onto a lightly floured surface and knead gently to form a soft dough. Roll dough out to 1/8 inch thickness.

Spread with approximately 3/4 cup Apple Butter or more if needed, roll and cut into 9 rolls, place in prepared cake pan cut side down and bake for approximately 30-40 minutes or until golden, check with a toothpick for doneness. Let cool.
FOR THE FROSTING
In a small bowl combine powdered sugar, vanilla and maple syrup if it is too thick add 1/2 tablespoon of milk, mix until smooth.

Drizzle cooled cinnamon rolls with Maple Frosting if desired. Enjoy!
Nutrition