Baked Macaroni Double Cheese, a delicious and creamy oven baked Cheddar and Parmesan Cheese baked Pasta Dish. The Perfect Weekday or Weekend meal.
Baked Macaroni Double Cheese is the perfect comfort dish, fast and easy and made and baked in one skillet.
I shared my news of the departure of my eldest daughter back to Toronto in my last post, and yes today is the day. (sad face).
We have been trying to pack in lots and lots of visits with family and friends these last few days, and to tell the truth maybe I have been lifting the fork more than normal trying to feed my sorrows.
And feed them I did with this Homemade Baked Macaroni Double Cheese.
Ever since I discovered cheddar cheese at the grocery store I knew I had to find a way to combine my two favourite cheeses into one dish. Cheddar and Parmesan cheese. This, my friends is a good one!
I will not apologize for the fact that I was (maybe still am) a lover of a certain boxed macaroni and cheese mix in Canada. But I have to say this homemade Baked Macaroni is on a whole new level.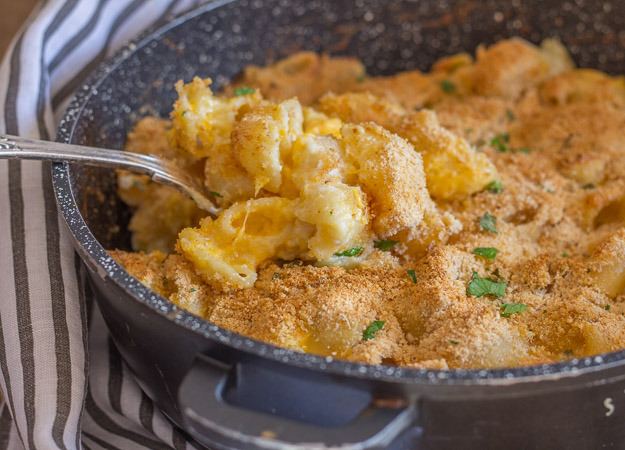 I decided to use a bigger elbow macaroni this time.
And make sure you cook the pasta with a little bit of an extra al dente, because it will cook more while baking.
More Baked Pasta Recipes you may enjoy!
Baked Gnocchi Double Cheese Tomato Sauce
Homemade Creamy White Sauce Lasagna
In a medium oven proof skillet I made the creamy white sauce, and then I added the cheese, I let the cheese almost completely melt, then I gently mixed in the pasta.
Baked Macaroni Double Cheese
I sprinkled on the bread crumb and parmesan mixture which gave it the perfect crunchy topping! This topping is perfect for baked pasta dishes.
This Homemade Baked Macaroni Double Cheese is a dish that the Italian eats without uttering a peep, so that goes to show just how good it is! Buon Appetito!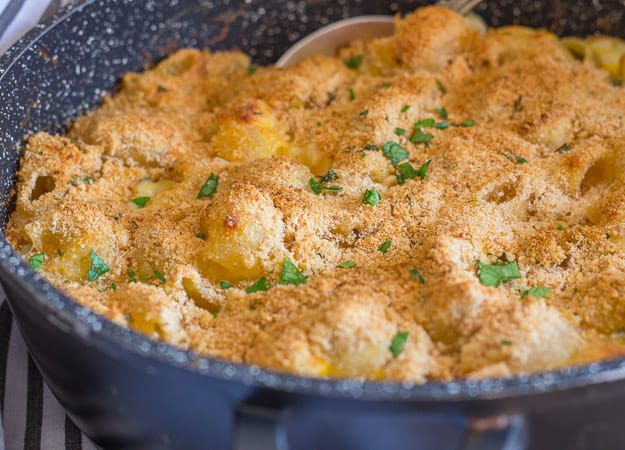 Baked Macaroni Double Cheese
A fast, easy and Creamy Double Cheese Macaroni Dish.
Ingredients
5

cups

cooked macaroni

3

tablespoons

butter

3

tablespoons

flour

1/4

teaspoon

salt

1/4

tablespoon

prepared mustard

2

cups

milk

2

cups

shredded cheddar cheese (or firm mozzarella)

1/4

cup

freshly grated Parmesan cheese

TOPPING

1/4

cup

bread crumbs

(or panko crumbs)

1 1/2

tablespoons

freshly grated Parmesan cheese

1

teaspoon

fresh chopped Italian parsley
Instructions
Pre-heat oven to 400° (200° celsius). Grease well a medium-sized baking pan 10 x 8 inches (26 x 20 centimeters) or use an oven safe skillet.

In a small bowl mix together bread crumbs,1 1/2 tablespoons Parmesan cheese and chopped parsley, set aside.

In a large pot over low-medium heat, melt butter, add flour and salt, whisk well together, then add mustard and milk, whisk until smooth and thickened (once mixture comes to a low boil, cooke 20 seconds) then add cheddar and Parmesan cheese, stir until almost completely melted, add macaroni and gently stir to combine, pour into prepared baking pan, top with cracker crumb mixture, bake until browned, approximately 25 minutes. Let sit 3-5 minutes before serving. Enjoy!
Nutrition
.
Republished from August 26, 2015.