Double Chocolate Coocakes, my delicious failed attempt at making a Crinkle Cookie into a Cupcake. It might not look like a cup cake but I will tell you the taste is amazing. A moist double chocolate delight.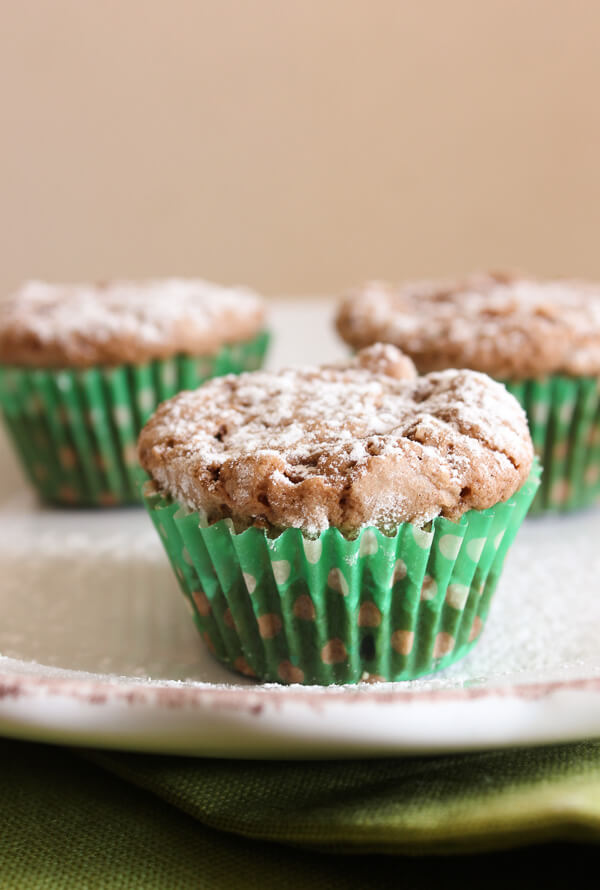 It's Sunday and time for dessert. Double Chocolate Coocakes? Are you wondering if I made a typo? Well no, I didn't and I will tell you the story. Every couple of Sundays  my youngest daughter, the Nutella queen invites her best friend over for lunch.
They met while taking swimming lessons and clicked almost immediately and I was lucky enough to make a good friend myself with her mother. So when I know they are coming I usually double up on the recipes and I  send some home with them.
That way I don't have all these Cookies and Cakes following me around the house and calling my name. Years ago I received a recipe from a friend of mine and she told me that I had to make them, because  they were absolutely delicious. She also told me that they were a type of crinkle cookie, to tell the truth I had  never heard of them, and no I don't live in a cave!
So sorry my friend I never got around to it, until yesterday. I pretty well followed the recipe, I only changed a few things. When I got to the part that I was suppose to be able to roll the dough into a ball, there was no way that was going to happen.
 I have no patience for sticky dough, nor did I have time to put it in the fridge and hope that it firmed up. So I came up with or what I thought was a brilliant idea. I would make mini cupcakes!
I filled the tins, baked them in the oven, watched them bake and when I removed them from the oven, I thought now what am I going to do?
They were completely flat on top, so  I turned to my eldest daughter, the Journalist, and yelped "they're flat! Now what the heck am I suppose to do?"
Double Chocolate Coocakes
Her response after thinking it over for a second or two was  "call them Coocakes", cookies didn't work and obviously neither did the cupcakes. So Double Chocolate Coocakes they became.
The bigger question, how did they taste? Amazing I must admit, a nice crunchy topping, soft center with hints of white and dark chocolate, what could be better?
Even the Italian was impressed. But I have to say, my eldest said it best, "Ma, get them outta here before I eat them all"! Enjoy!
Double Chocolate Coocakes
Double Chocolate Coocakes, when a cookie meets a cupcake. Crunchy on top, soft in the centre, with the perfect mix of double chocolate chips.
Ingredients
2

squares unsweetened chocolate

60 grams

1/4

cup

butter

62.5 grams

3/4

cup

sugar

150 grams

1

teaspoon

vanilla

5 grams

2

eggs

1

cup

flour

140 grams

1

teaspoon

baking powder

4 grams

1/4

cup

unsweetened mini chocolate chips

45 grams

1/4

cup

mini white chocolate chips

45 grams

icing sugar for sprinkling
Instructions
Pre-heat oven to 350° (180° celsius). Lightly grease and flour 24 mini muffin tin size or line with mini cupcake wrappers.

In a double boiler melt the chocolate squares and butter, when melted (don't let it boil) stir in sugar and let cool.

When cool place in a medium-sized bowl and add the vanilla, beat on medium speed and beat well, add eggs one at a time, beating well after each addition, add flour and baking powder to creamed mixture and beat well.

Fold in chocolate chips.

Spoon into mini cupcake tins, sprinkle with icing sugar and bake for approximately 10-15 minutes, check for doneness with a toothpick. Let cool. Sprinkle with additional icing sugar if desired. Enjoy!
Nutrition