The summer is fast approaching, actually I have to admit it is already here, and I am not liking the heat one little bit! Probably the only good thing is the vast assortment of fresh vegetables. I don't know about you but I prefer summer vegetables to winter vegetables. Especially tomatoes,  one of those do all veggies.
Grilled Zucchini and Tomato Cheese Bake was a cinch to put together, the only time-consumer was grilling the zucchini but that was because I made double the amount just so I would have enough for my grilled zucchini also. I decided to half-dry the tomatoes by putting them in the oven, not completely dried just so they aren't  insipid as the Italian likes to tell us. No INSIPID tomatoes on his plate!
I have to say sometimes my husband does know what he is talking about!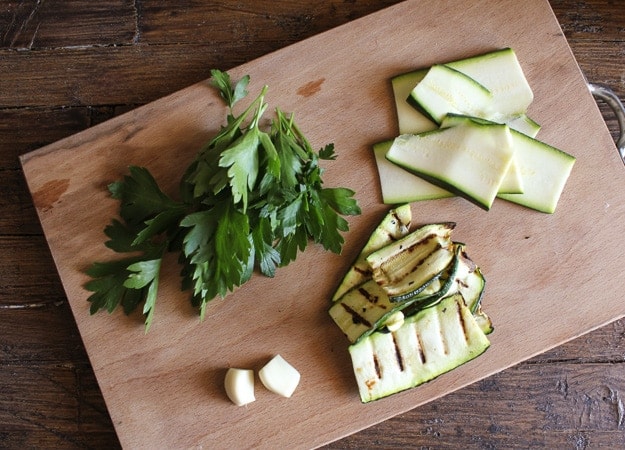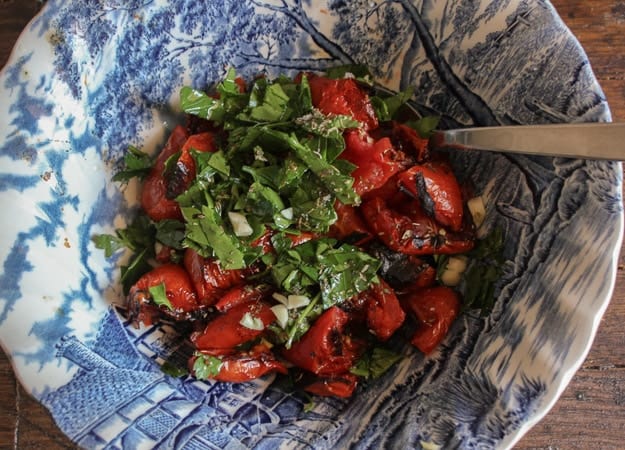 The combination of the grilled zucchini and that little bite from the half-dried tomatoes mixed with some grated mozzarella,  and lets not forget the freshly grated Parmesan cheese,  makes this Grilled Zucchini and Tomato Cheese Bake an amazingly yummy side dish or main dinner meal.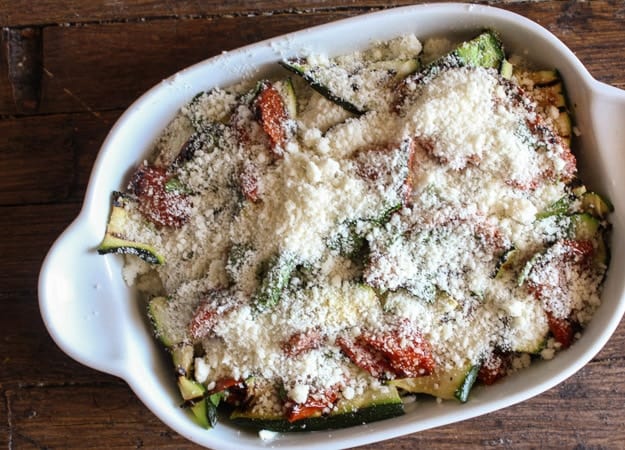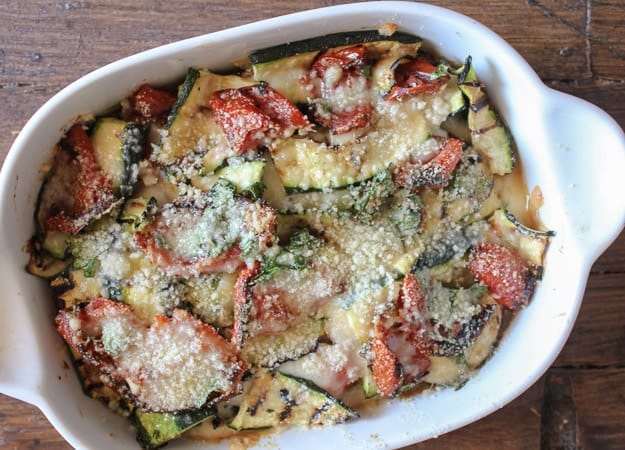 I also like to cut my zucchini strips and tomatoes in half, makes it easier to eat. If you are like me the summer makes me want to eat more veggies and trust me this is a good one! Buon Appetito!
Grilled Zucchini and Tomato Cheese Bake
Grilled Zucchini and Tomato Cheese Bake, nothing like a delicious fresh veggie baked dish, especially tomatoes and mozzarella combination.
Ingredients
7

small plum tomatoes

3-4

medium zucchini

FOR THE SAUCE

1/4

cup

( fresh parsley

1/2

teaspoon

oregano

1/2 gram

1/4

teaspoon

salt

1 1/4 grams

1/2

teaspoon

basil or 4 or 5 fresh basil leaves

1/2 gram

3

tablespoons

olive oil

45 grams

1

clove

garlic chopped

pinch or 2 of hot pepper flakes if desired

TOPPING

1

cup

grated firm mozzarella

125 grams

1/2

cup

freshly grated Parmesan cheese

60 grams

pinch of salt
Instructions
Pre-heat oven to 350° (180° celsius)

Cut tomatoes in half and place on lightly greased cookie sheet, bake in oven for approximately 30 minutes, or until almost dried but still moist. Remove from oven let cool, then cut into smaller pieces.

Trim zucchini and then slice zucchini lengthwise into thin (not too thin) strips, grill on pan grill until tender, approximately 1-2 minutes on each side. Move zucchini to a clean plate and continue until all zucchini are grilled.

FOR THE SAUCE

In a medium-size bowl add oven dried tomatoes, parsley, oregano, salt, basil, garlic, hot pepper flakes and olive oil, mix gently to combine.

Lightly grease a 8 x 6 inch (20x15 centimeter) baking dish, arrange one layer of zucchini (1/3) on the bottom top with 1/3 of the tomato mixture, sprinkle with 1/2 of the grated mozzarella and 1/3 of the Parmesan cheese, continue with another 2 layers (the second layer of zucchini sprinkle with a pinch of salt), the last layer top with only the Parmesan cheese. Bake for approximately 25-30 minutes, let sit 5 minutes before serving. Top with extra Parmesan cheese if desired. Enjoy!

** There will be a little water at the bottom of the baking dish, just drain it off.
Nutrition
Calories:
184
kcal
Carbohydrates:
6
g
Protein:
9
g
Fat:
14
g
Saturated Fat:
4
g
Cholesterol:
22
mg
Sodium:
353
mg
Potassium:
451
mg
Fiber:
1
g
Sugar:
4
g
Vitamin A:
995
IU
Vitamin C:
27.6
mg
Calcium:
212
mg
Iron:
0.8
mg