Quick and Easy Baked Stuffed Halibut, a delicious baked fish dish, with the perfect stuffing. The perfect weeknight meal.
What to cook, what to cook? That seems to be a question I ask myself quite often these days. Summer has arrived and for that reason my family requests pasta less and less.
So now I am looking at making pasta twice a week at the most. I have to admit when pasta is served it kind of makes my life a lot easier, serve a little salad, a tasty meat or fish dish or even some Prosciutto crudo and there you go, everyone is happy. But no pasta?!
That is where this Quick and Easy Baked Stuffed Halibut comes in handy.
As I served this delicious baked halibut dish  for lunch last week, my husband's first response was "this is your Mom's recipe isn't it"? "Umm yeah it is" and why would he think that? Because he said it reminded him of Canada.
I knew exactly what he meant,  it's the bread stuffing! Look out turkey, baked halibut handles a bread stuffing just as well.
To tell the truth it isn't exactly stuffed into the halibut, (it sits on top of a deliciously creamy combination of mayonnaise, halibut and spices),  and this makes it a little bit crunchy too. Love that.
I used fresh Halibut. I am sure it would work with frozen also, but I would thaw it out first and paper towel dry, just to make sure there is as little moisture as possible.
Quick and Easy Baked Stuffed Halibut is the kind of dish that is perfect for a family dinner or fancy enough for company coming. Buon Appetito!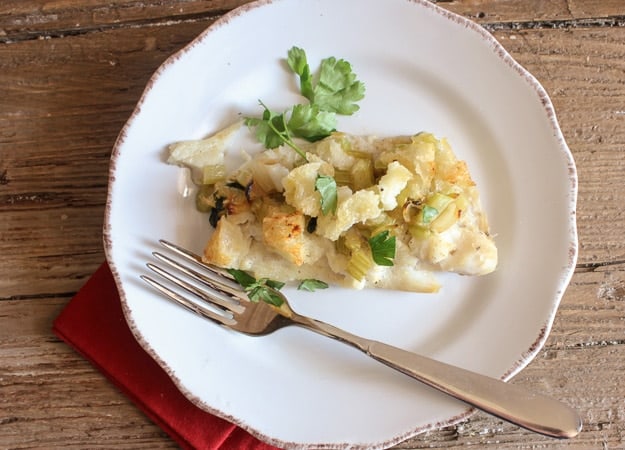 Easy Baked Halibut
Quick and Easy Baked Stuffed Halibut, a delicious healthy baked fish recipe. A moist fish dish with a crunchy buttery bread topping.
Ingredients
4

fresh or frozen halibut fillets

2

tablespoons

butter

30 grams

1-2

celery stalks chopped

2

tablespoons

fresh chopped Italian parsley

2 1/2 grams

1

small

onion diced

2-3

slices

bread cubed

1/2

teaspoon

Worcestershire sauce

2 1/2 grams

2

teaspoons

mayonnaise

25 grams

pinch of hot pepper flakes if desired
Instructions
Pre-heat oven to 340° (170 celsius), lightly grease a medium to large baking dish.

In a medium frying pan on low heat add butter and melt.

Add chopped celery, onion and parsley, cook on low to medium heat until transparent, remove from heat and toss with bread crumbs.

In a small bowl add one halibut fillet finely chopped, Worcestershire sauce, mayonnaise and hot pepper flakes if using, with a fork mix almost to a paste.

Place remaining fillets in the baking dish and season with a little salt and pepper, spread paste and top with bread stuffing on each fillet.

Bake for approximately 20-25 minutes until fish is done. Enjoy!
Nutrition