Apple Pie Cookies a delicious homemade Recipe, a buttery soft cookie dough stuffed with the perfectly sweet cinnamon apple filling. These won't last long!
Can I start off by saying "I love anything Apple and Cinnamon. "
I also love the fact that the horrible heat of July and August is finally coming to an end. And now we can all concentrate on keeping warm. No better way then some warm out of the oven Apple Pie Cookies.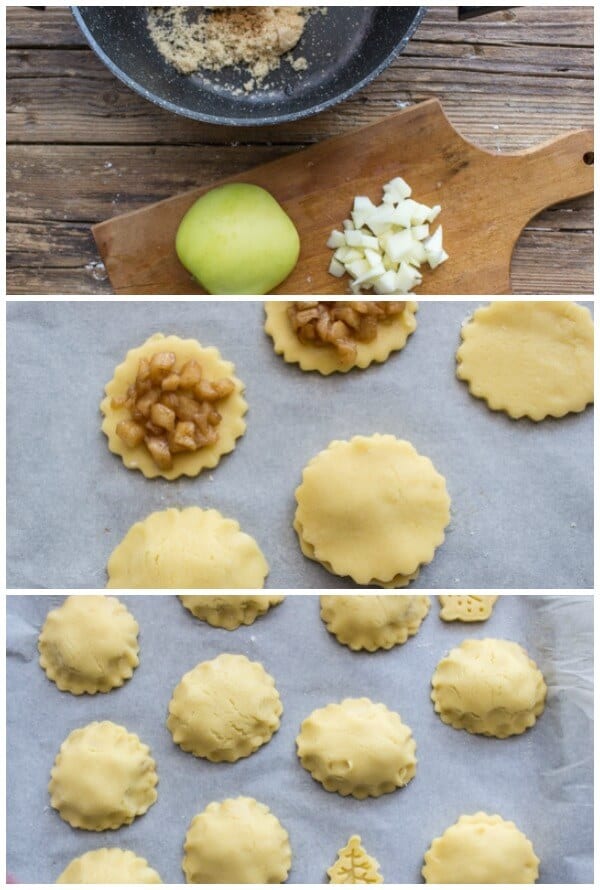 Here in Italy it is still pretty hot even if it is almost September, and can you believe how fast this summer went by?
Probably faster for me because I was home visiting family and friends. I left the amazing weather of Toronto to come back to off the charts record-breaking- heat of Rome.
But at least it's almost September!
Over the last two-three years I have made quite a few things with Apples, from cakes to sweet loafs.
Here are a few I think you might like!
So this time I though why not stuff a cookie? I made the filling quite thick because I didn't want any of the filling escaping from the inside.
To tell the truth I got a bit busy and the filling got overly thick so to thin it up a bit I added a couple of tablespoons of Maple Syrup. As the Italian said, "good move".
Homemade Apple Pie Cookies Recipe
Besides don't you hate when the filling exscapes!? This cookie dough is soft and holds everything together perfectly. Before baking I sprinkled the cookies with a cinnamon sugar mixture, delicious!
So if you are looking for a wonderful way to start the Fall or even end the summer, then these Homemade Apple Pie Cookies would be a great choice. Enjoy!
How to make Homemade Apple Pie Cookies
Homemade Apple Pie Cookies Recipe
A delicious made from scratch easy cookie recipe, filled with a delicious apple cinnamon filling. Perfect!
Follow me on Youtube!
Watch the videos and don't forget to subscribe on Youtube!
Ingredients
FOR THE COOKIE DOUGH
1/2

cup

butter* (room temperature)

(112.5 grams)

1/2

cup

sugar

(100 grams)

1

egg

1 1/2

cups

flour

(187.5 grams)

1

teaspoon

baking powder

(5 grams)

1/2

teaspoon

vanilla

(2.10 grams)

1

pinch

salt

(1.4 grams)
*If using unsalted butter then use 1/4 teaspoon salt.
FOR THE APPLE FILLING
2

apples

cored, peeled and diced small

1 1/2

tablespoons

butter

(20 grams)

2

tablespoons

brown sugar

(20 grams)

1/2 - 1

teaspoon

cinnamon

(3-6 grams)
Instructions
FOR THE COOKIE DOUGH
Making it by hand- In a medium bowl whisk together flour, baking powder, sugar and salt. Make a well in the centre and add the butter, egg and vanilla. Mix with a fork until almost combined, move to a lightly floured flat surface and gently knead until dough is well combined and soft. Wrap in plastic and refrigerate 30 minutes at least.

Making it with a food processor - In the food processor add butter and sugar pulse to combine slightly a few time, add egg and vanilla, combine until smooth add flour mixture pulse a few times until almost combined. Move to a lightly floured flat surface and gently knead until the dough is well combined and soft (this won't take long). Wrap in plastic or parchment paper and refrigerate for at least 30 minutes.
FOR THE APPLE FILLING
While the dough is in the fridge prepare the filling, in a medium pot add butter, brown sugar, cinnamon and diced apples, mix together and cook on low to medium heat for 5 minutes, cover and cook for another 5 minutes, stir the mixture occasionally and watch that it doesn't burn (at this point gently squish with a fork, but do not make a cream, leave diced apples almost whole), if apples are not soft continue to cook for another 5 minutes on low uncovered. Remove from heat and let cool completely.

Pre-heat oven to 350° (180° celsius). Line one or two cookie sheets with parchment paper.

Remove dough from the fridge and roll dough out on a floured flat surface to 1/8 inch (2 mm) cut with a round cookie cutter approximately 28 circles (2 1/4 inch / 6 cm size), place 14 circles on prepared cookie sheet, place a heaping teaspoon of apple filling on each circle, gently spread the filling, be sure not to go over the edge, cover with another circle and close the edges with a fork (I lightly wet my fingers and closed the edges). Brush with a little milk and then sprinkle with a mixture of sugar and cinnamon (2 tablespoons sugar and 1/2 - 1 teaspoon cinnamon mix well), bake for approximately 15 minutes or until golden. Remove from oven, let cool or eat warm. Enjoy!
Nutrition
Calories:
149
kcal
|
Carbohydrates:
19
g
|
Protein:
1
g
|
Fat:
7
g
|
Saturated Fat:
4
g
|
Cholesterol:
28
mg
|
Sodium:
101
mg
|
Potassium:
65
mg
|
Sugar:
10
g
|
Vitamin A:
235
IU
|
Vitamin C:
1.1
mg
|
Calcium:
18
mg
|
Iron:
0.6
mg
Updated from September 2015