Easy Light Lactose Free Homemade Pancakes, are so fast and easy to make, they will become your new go to pancake recipe.
There has finally arrived the countdown until the happy day when our eldest daughter comes back home for a visit,  after one and a half years away. We have already been planning family and friends get togethers.
She has also given me a list of dishes she can't wait to eat again. Lasagna, Meat Loaf, Chickpea Soup, Tiramisu. It seems everyday there is a new one.
Living in Canada and living with her Aunt she started to love Coconut and Rice Milk, so when she found them also in Italy, they became a main staple in our house.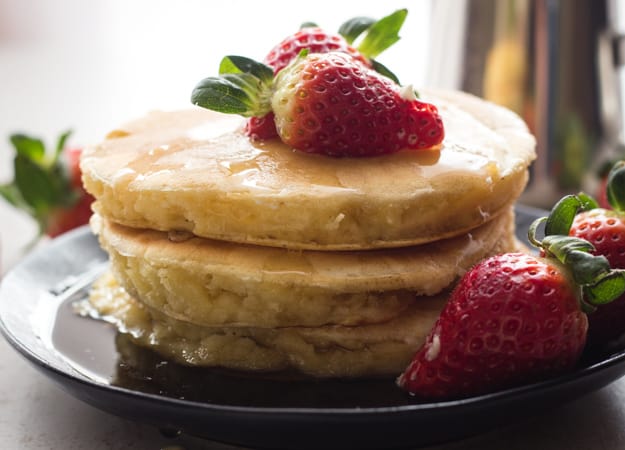 That was when she decided to change my Pancake Recipe into her own Easy Light Dairy Free Homemade Pancakes. They were so good, that she became the Sunday morning pancake maker while she was here.
With the coming of Fat Tuesday or Martedi Grasso or even Pancake Tuesday or whatever you may call it,  I thought this would be the perfect time to share this amazing Pancake Recipe.
I served these pancakes with a little butter, maple syrup and strawberries.
Easy Light Dairy Free Homemade Pancakes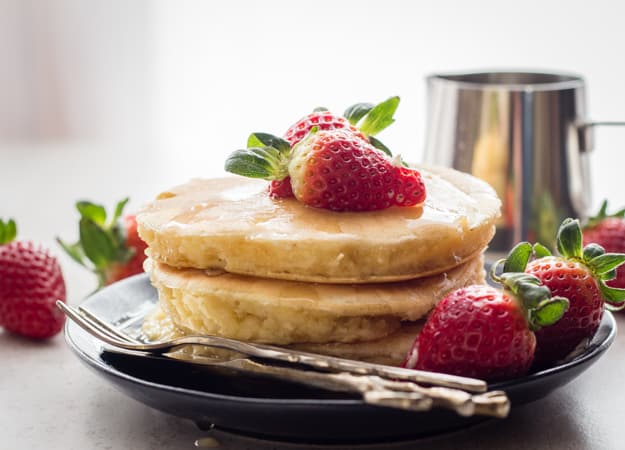 As I was looking at the photos I said to my youngest daughter, "what do you think too many strawberries" ?
And she replied "Ma, strawberries are like diamonds you can never have too many". So however you celebrate Fat Tuesday, with Castagnole, Frappe or even Made from Scratch Pancakes I hope you eat well and Enjoy!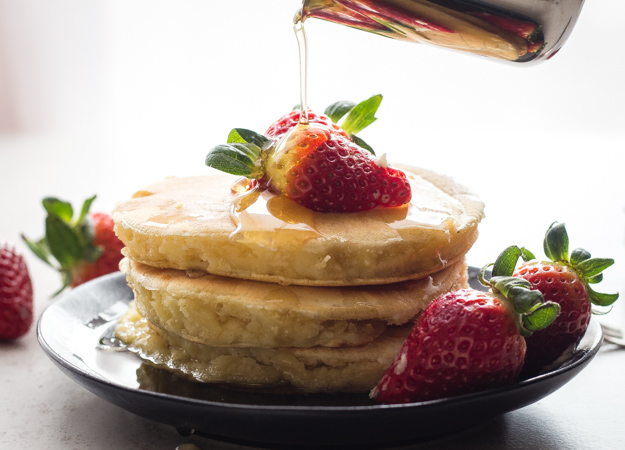 Easy Light Lactose Free Homemade Pancakes
Homemade Pancakes, an easy light lactose free made from scratch Pancake Recipe. Your new delicious fluffy Pancakes.
Follow me on Youtube!
Watch the videos and don't forget to subscribe on Youtube!
Ingredients
1

cup

all purpose flour

1/4

cup

bread flour

1

tablespoon

sugar

2

teaspoons

baking powder

1/4

teaspoon

salt

1

large

egg

1

cup

coconut or rice milk

3

tablespoons

vegetable oil
Instructions
In a large bowl whisk together flours, sugar, baking powder and salt.

In a medium bowl beat egg with a fork, then add milk and oil, beat to combine.

Add wet ingredients to the flour mixture and whisk until smooth.

Lightly brush a medium frying pan with oil or butter

and heat over medium-high heat. When the pan is hot enough pour the batter by approximately 1/2 cup measure. Cook until batter starts to bubble and the bubbles start bursting. Flip the pancake over and fry until golden. Serve immediately with maple syrup, jam or whatever you desire. Enjoy!
Nutrition
Calories:
476
kcal
|
Carbohydrates:
46
g
|
Protein:
7
g
|
Fat:
30
g
|
Saturated Fat:
25
g
|
Sodium:
207
mg
|
Potassium:
479
mg
|
Fiber:
1
g
|
Sugar:
4
g
|
Vitamin C:
0.7
mg
|
Calcium:
135
mg
|
Iron:
4.7
mg
Recipe From – What Erika Wears