Easy Nutella Puff Pastry Balls, a fast and easy and gone in seconds dessert. You can have this on the table in 30 minutes! Two ingredients are all you need!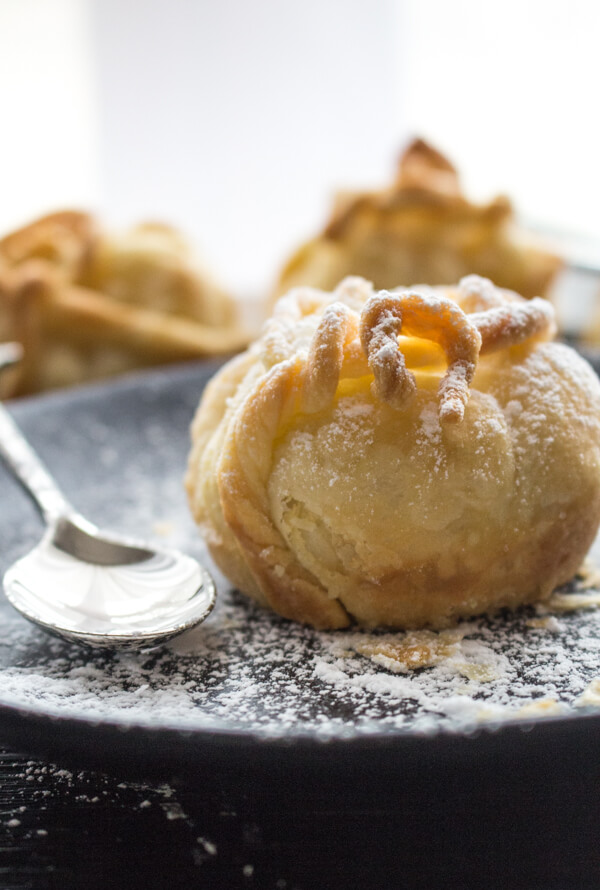 I looked in the fridge a couple of mornings ago, and I saw a package of Puff Pastry just sitting there with the expiration date staring at me in the face. I love Puff Pastry and I knew I couldn't throw it away, so I had better make something soon.
What I originally wanted to do with it I wasn't in the mood to make (too much cutting and slicing and I really wanted something sweet).
So I decided I was going to stuff that Pastry with Nutella. Now all I needed was the Nutella!
Growing up in Canada I can remember my Mom would go shopping every two weeks, when my Dad got paid and she would buy enough food to last from one pay cheque to another.
I think I tried that once here and it just didn't work. For one thing,  the Italian and the Italian's children need and want fresh bread daily.
If you have ever tried fresh Italian bread I am quite certain you would understand!
Also milk comes in one litre containers here and expires rather quickly. So if I have to go out for fresh bread and a litre of milk as you know there will always be something else to add to the list.
Easy Nutella Puff Pastry Balls
I decided on Easy Nutella Puff Pastry Balls because I didn't want any Nutella to escape, I also had that idea for my Apple Pie Cookies and it worked. The key is – the stuffing ingredient has to be compact no excess sauce or juice, unless of course you want it runny!
Therefore Nutella made the list that day.When I returned home I immediately placed the jar of Nutella in the fridge, I knew I wanted to stuff the Puff Pastry with a good amount of Nutella.
I wanted it hard and not spreadable. No need to make balls and then place them in the freezer, just put the whole jar in the fridge and scoop as you go.
As in Caramel.  Believe me I am no decorator. My daughter and  I had a good laugh, as I was trying to add a little extra touch to the balls, as in something resembling a twisted rope or bow.
But when they came out of the oven they looked really cute, so don't despair.Or you could always use a cookie cutter to cut out a couple of designs.
I ended up making six of these Puff Pastry Balls and they were gone in seconds. I had to beg for a taste. So if you don't have any puff pastry hanging around, I would advise you to go buy some and give these Nutella Stuffed Puff Pastry Balls a try. Enjoy!
Easy Nutella Puff Pastry Balls
A fast and easy 2 ingredient Dessert idea. A simple pastry filled with Nutella and baked to yummy perfection.
Ingredients
1

store bought puff pastry dough package

1

cup

Nutella
Instructions
Pre-heat oven to 350°.

Place jar of Nutella in fridge for at least 3-4 hours or until very cold and firm.

Grease and flour a 6 medium size muffin tin.

Thaw puff pastry if frozen, unroll and using a rolling pin, roll to even it out but do not make it too thin, cut into 6 squares, make sure you leave a strip for cut outs or decorator ropes.

Place a big scoop of Nutella in the middle** of each square and starting from the opposite ends bring up the corners to meet, do this again with the remaining corners (see photos) and squeeze to close. Decorate with twisted strips of pastry or cut outs. Place in prepared muffin tin and sprinkle with sugar, bake for approximately 20 minutes. Let cool enough to handle, dust with powdered sugar and serve. Enjoy!

** You could also place spoonfuls of Nutella on a parchment paper lined cookie sheet and then freeze them for an hour then place one in the middle of each square.
Nutrition