Italian Valentine's Day Tarts, a delicious chocolate pastry crust filled with a creamy Italian Pastry Cream.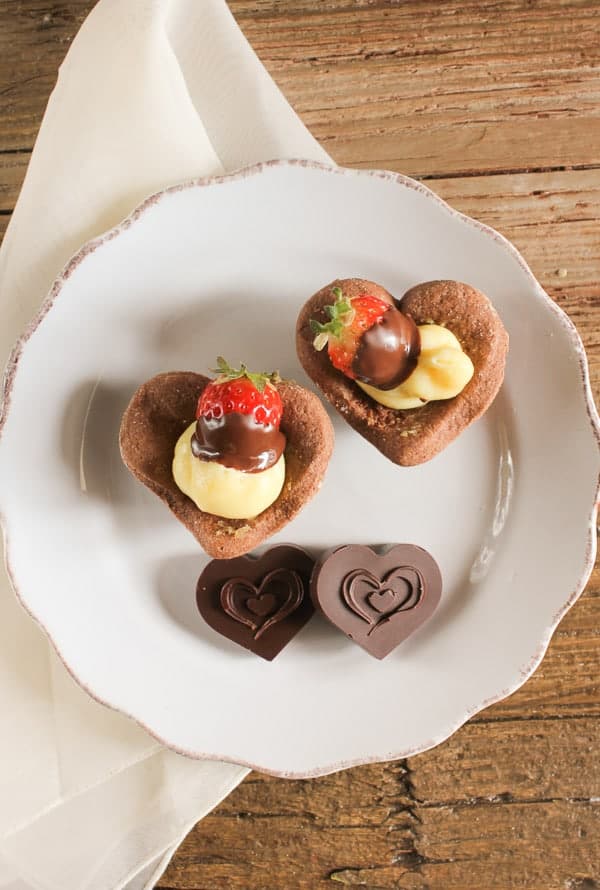 I have never been a big Valentine's Day person. I firmly believe that I do not need a special day to eat chocolate, any day is good enough for me!
But I do like to know a thing or two and so I wondered, why do we celebrate Valentines Day? Well it appears that a popular story about St. Valentine of Rome states that he was imprisoned because he performed weddings for soldiers who were forbidden to marry.
According to legend during his imprisonment he healed the daughter of his jailer and just before his execution he sent her a letter signed "Your Valentine". True or not True? Who knows? Endearing all the same.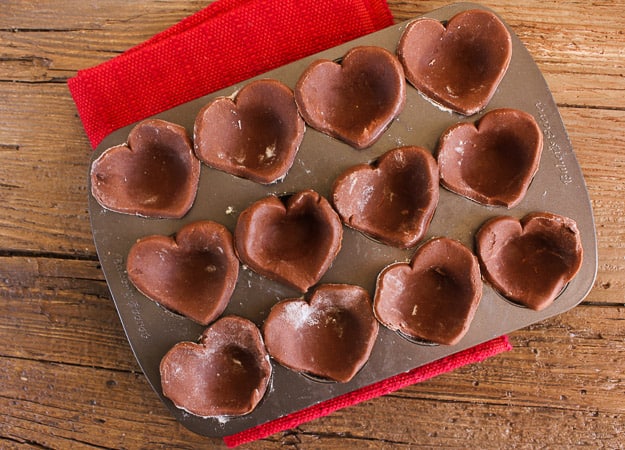 So since it all started in Rome, and when you get right down to it, what didn't start with the Romans? I thought hey why not make some Italian Valentine's Day Tarts starting with  a classic Italian pie dough topped with Italian cream?
And what's more romantic than a chocolate dipped strawberry? I was even lucky enough to find a mold with  heart shapes. I used it to make 2 types of chocolates, half I filled with semi sweet melted chocolate and the other half I filled with a  Truffle filling (minus the nuts if you please).
I have a relatively cooler house so I let them sit in the mold over night and they popped out perfectly,  if your house is warmer, just let them sit for an hour and refrigerate over-night, do not freeze, my first batch I put in the freezer and they turned into a creamy mess.
With this I leave you to your chocolate eating and maybe some baking and a quote or two. Happy Valentine's Day. Enjoy!
Italian Valentine's Day Tarts
My bounty is as boundless as the sea, My love as deep; the more I give to thee, The more I have, for both are infinite.– William Shakespeare, Romeo and Juliet
The best and most beautiful things in the world cannot be seen or even touched. They must be felt with the heart.-Helen Keller
Italian Valentine's Day Tarts
Italian Valentine's Day tarts, why not celebrate Valentines Day with a little Italian flare? A delicious tart dough and creamy filling.
Ingredients
FOR THE TART DOUGH

1/3

cup

+ 1 tablespoon sugar

100

7

tablespoons

butter

100 grams

1

egg

1/4

teaspoon

salt

1.4 grams

1/2

teaspoon

vanilla

2 1/2 grams

1

teaspoon

baking powder

4 grams

1 1/2

cups

flour

210 grams

2

tablespoons

unsweetened cocoa

15 grams

FOR THE ITALIAN PASTRY CREAM

3/4

cup

milk

3/4

cup

cream whipping or whole

4

egg yolks

1/2

cup

sugar

250 grams

1/2

teaspoon

vanilla

2 1/2

tablespoons

flour

1-2

lemons

peel white part only
TOPPING
6

fresh strawberries (I cut them half and dipped them in melted chocolate)
Instructions
Pre-heat oven to 350° grams. (180° celsius). Use a 12 medium-sized muffin tin.

FOR THE TART DOUGH

In a medium bowl cream sugar, butter and vanilla, then add egg and mix.

In a medium bowl whisk together flour, salt, baking powder and cocoa.

Add dried ingredients to creamed mixture (I used a food processor) and pulse until lightly combined.

Remove to a lightly floured flat surface and knead gently until you have a soft smooth dough.

Roll out dough to pie crust thickness (1/4 inch or less 1/2 centimeter), cut into shapes and place in muffin tin, bake for approximately 10 minutes (check for doneness).

FOR THE ITALIAN CREAM

In a medium pot, heat over low the milk, cream and lemon rind, until very hot but do not boil. Remove from heat and let cool to warm.

In a medium pot add yolks and sugar, whisk together until combined, then add flour and vanilla, place pot over low heat, pour the warm milk/cream through a sieve to remove the lemon rind (disgard), whisk continuously until thickened. Remove to a glass bowl, cover with plastic wrap (make sure wrap touches the cream mixture and refrigerate approximately 1 hour or until thickened.

Remove tarts from the oven, let cool and fill with cooled Italian cream. Top with chocolate dipped strawberry. Enjoy!
Nutrition