Puff Pastry Rose Hearts a fast and easy idea to make Valentine's Day or any day special. Filled with Chocolate Chips or your favourite Jam makes them Delicious.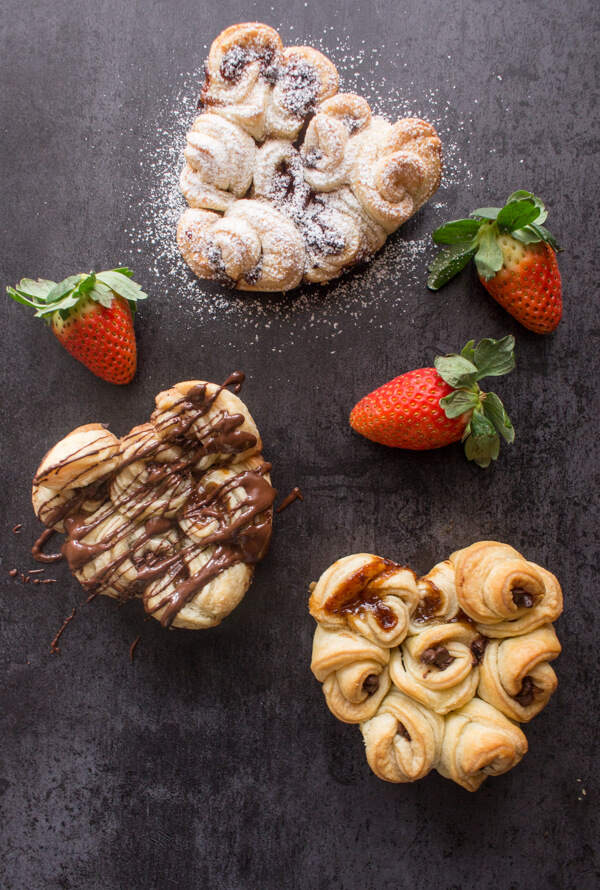 One of the first things a family of a Food Blogger has to realize is that Holidays or Special Days always come at least a month or two early.
This year my husband asked "so what holiday are we celebrating this month"? Which reminded me that Valentine's Day was just around the corner. And this got me thinking, what to make?
In the past I made some chocolate Valentine's Day Tarts with Pastry Cream and last year some cute Chocolate Dipped cut out  Heart Valentine Cookies.
But this year I wanted something fast and easy.Puff pastry roses always seemed to catch my eye. They were usually rolled up with sliced apples, I love those, they make my mouth water.
But I also noticed an Italian site Il Cucchiaio D'Argento that made them without the apple slices, just plain.
I liked that idea, although an easy filling would be perfect!
I ended up making this recipe at least four times. Every time using a different pastry. The first time I made my Brioche Recipe, another time a simple store bought Pie Pastry Dough and then a store bought Puff Pastry Dough. And believe it or not again using my homemade Puff Pastry.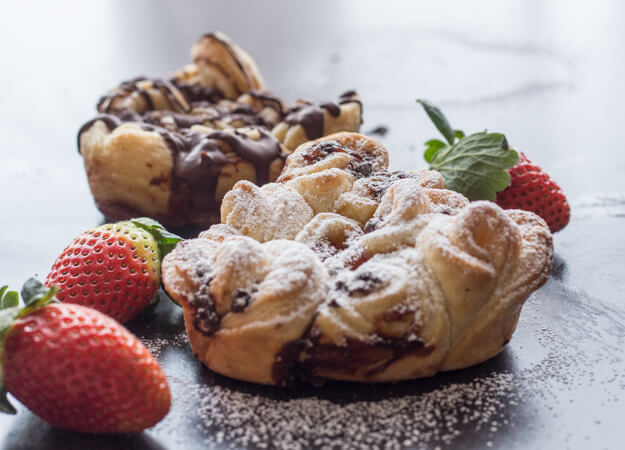 Some of the circles I topped with chocolate chips and some with our favourite Jam.
After they were baked and cooled down, I then dusted a few with icing sugar, some drizzled with melted dark chocolate and a couple I drizzled with a simple strawberry sauce. And which dough was the winner?
To tell the truth they were all good. I like a Brioche Bread myself,  but I was really looking for something fast and easy and really pretty. So we all agreed that the Puff Pastry was the winner, not that the pie pastry was bad,  but puff pastry is puff pastry!
Easy Filled Puff Pastry Rose Hearts
If you have time and prefer Homemade Puff Pastry or Pie Dough that works too. These Easy Filled Puff Pastry Rose Hearts can be used with a good store bought dough and made in no time.
If you don't have heart shaped cookie pans, not a problem, they are really cute in any shape. Enjoy!
Easy Filled Puff Pastry Rose Hearts
Puff Pastry Rose Hearts, a beautiful, fast and easy sweet recipe. Filled with chocolate, cream or jam they make the perfect dessert.

Ingredients
2

store bought Puff Pastry or Pie Crust Rolls

(if frozen let thaw)

1/2

cup

mini chocolate chips (more or less)

87.50 grams

2

tablespoons

jam of choice (more or less)

40 grams
Instructions
Pre-heat oven to 425°. Grease and flour 4-6 baking shapes.

Roll out pastry dough to flatten, using a small round cookie cutter cut out (2.5 inches or 6.5 centimeters) circles. Take 3 circles at a time and in the middle place some chocolate chips, or a little jam. Spread with the bottom of a spoon but do not cover the whole circle. Place a circle over the other (see photo), from the top roll to the bottom and cut in the middle with a knife. Place the cut side down in the baking shape. Continue until complete. Sprinkle with some extra chocolate chips if desired. Bake in pre-heated oven at 425° F (215 celsius) until pastry starts to puff, approximately 10 minutes then reduce heat to 375°F (190° celsius) and bake until done, approximately 20-30 minutes more. If the top starts to darken too quickly cover with foil and continue baking. Let cool completely before sprinkling with icing sugar or drizzling with chocolate. Enjoy!
Nutrition