Rosemary Roasted Onions, a simple and easy side dish. Roasted halved onions, topped with delicious herbs rosemary, oregano and olive oil. All baked to perfection.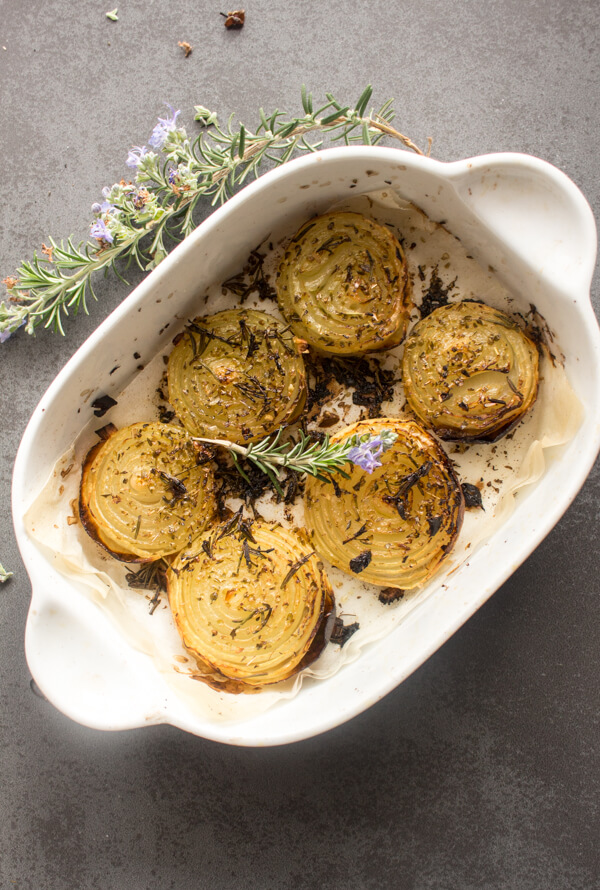 I have always liked onions, green, red or white, by themselves or in a stir fry. But I have grown to love them thanks to the Italian. Toss them in a salad to give it that extra kick.
So now whenever I can, I make Rosemary Roasted Onions. Naturally the first time I tried these, was many years ago.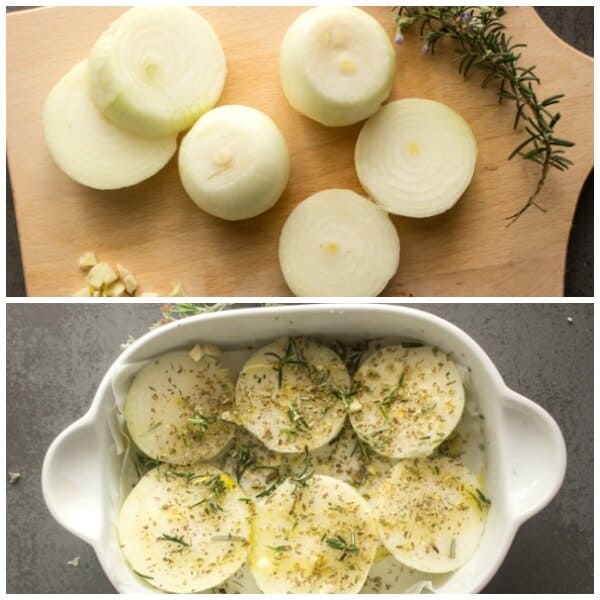 My mother-in-law, whenever she would start the wood burning stove, she would always make so many delicious dishes. Whenever we saw her bring out her 10 kilo bags of flour we knew we were in for a treat.
Off she would go to light the fire, whenever she got the urge to make Homemade Bread. There were never enough urges as far as we were concerned.
But she would never just stop at bread, oh no there was Homemade Pizza, Roasted Peppers and of course Roasted Onions.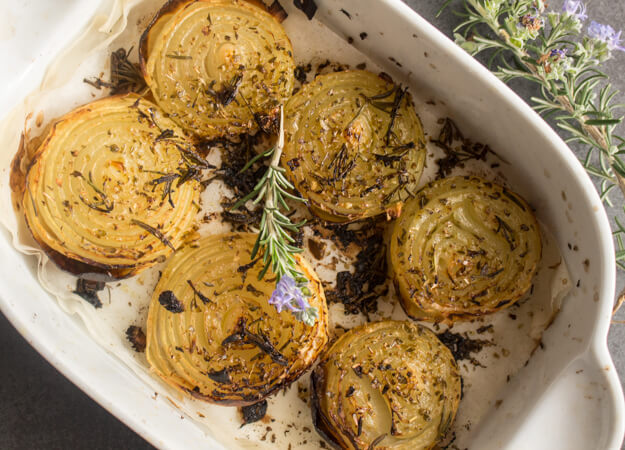 I could not believe how delicious these were when I first tried them, they have since become one of my favourite side dishes. Which needless to say I don't make enough either.
Don't you just love a side dish that comes together in about 10 minutes? Well this is it. All you  have to do is clean your onions, slice them in half, place them sliced side up in a lightly oiled baking pan, sprinkle with salt, oregano, chopped garlic and chopped fresh rosemary.
Then finish off with a nice drizzle of olive oil. Bake for about 30 minutes and there you have a fast and easy Rosemary Roasted Onion dish. Onion lovers will thank you. Buon Appetito!
Related Recipe
Homemade Crispy Crunchy Onion Rings
Rosemary Roasted Onions
Rosemary Roasted Onions, whole roasted onions sprinkled with rosemary & spices and drizzled with olive oil. So yummy.

Ingredients
3

medium - large onions sliced in half (centre cut in half)

1-2

cloves

garlic minced

3

tablespoons

olive oil

1

teaspoon

oregano

½

teapoon

salt or to taste

2.8 grams

1

tablespoon

fresh rosemary sprigs chopped
Instructions
Pre-heat oven to 425° (210° celsius). Lightly oil or line with parchment paper a medium baking dish.

Place cut side up onions in a single file in baking dish, sprinkle with minced garlic, oregano, salt, chopped rosemary and drizzle with olive oil.

Bake for approximately 30-30 minutes or until onions are tender and dark golden brown.  Serve immediately.  Enjoy!
Did You Make This Recipe?
Please leave a comment below or pin it to your Pinterest account!