Unfortunately for me the heat is upon us! I don't handle the heat very well, the only good thing about it is my husband and I have started a  veggie garden this year which is great seeing as I am sure cool food will be on the table pretty soon.
So before I start to melt and I decide to not turn on the oven until next September I thought a really good pizza recipe would be the perfect addio to my oven. I have seen pizza twists but I also noticed that filling didn't stay inside, instead it would be lost on the pan. I thought that placing a topping of pizza dough on top of the filling and then twisting would solve that problem. And yes it did.
This Veggie Stuffed Pizza Twists were made with pre-made pizza dough but you could always give a try to my Best Pizza Dough.
These Pizza Twists are stuffed with fresh tomatoes,mushrooms and peppers and of course mozzarella and before I baked them in the oven I drizzled the tops with olive oil and sprinkled with a good bit of freshly grated Parmesan cheese, which I must say has become my all-time favourite cheese.
I could and I do eat this cheese in chunks.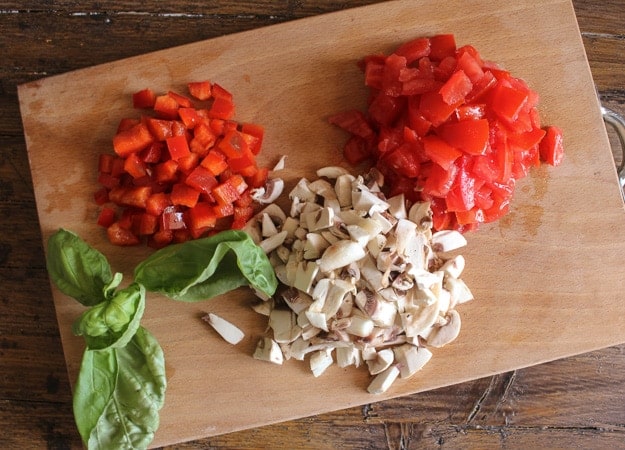 Probably one of my favourite bites is a slice of Italian crusty bread topped with grilled eggplant and a slice of Parmesan, trust me this is a must try, and it would go really well as an appetizer with these delicious Veggie Stuffed Pizza Twists. Buon Appetito!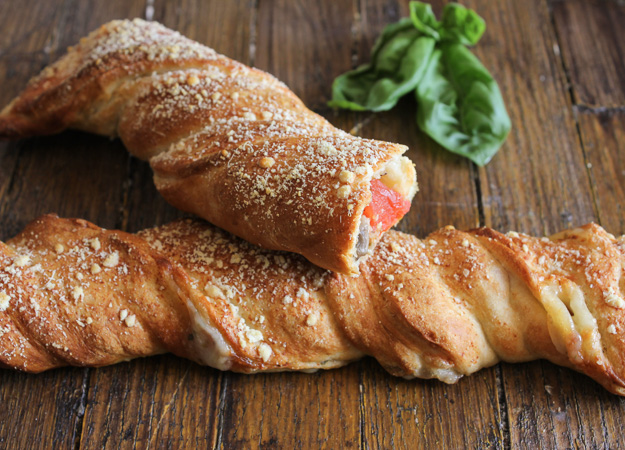 Veggie Stuffed Pizza Twists
Veggie Stuffed Pizza Twists the perfect alternative to pizza! With veggies and 2 types of cheese. Crunchy on the outside, quick and easy meal.
Ingredients
2

pre-made pizza dough

or best pizza dough recipe

1

cup

chopped mushrooms

1/2

cup

chopped peppers

4-5

medium ripe tomatoes seeded and chopped

1/2

teaspoon

oregano

1/2

teaspoon

basil

1/4

teaspoon

salt

3

tablespoons

olive oil

45 grams

1

cup

shredded firm mozzarella

1/4 -1/2

cup

freshly grated Parmesan cheese

extra olive oil for brushing
Instructions
Pre-heat oven to 450° (250° celsius). Lightly grease a large pizza pan.

In a large bowl mix together mushrooms, peppers, tomatoes, oregano, basil, salt and 3 tablespoons olive oil. Gently mix together. Set aside.

Roll out pizza dough and form 2-4 long strips approximately 4 inches x 10 inches (10x30 centimeters), place one strip on pizza pan and spoon some tomato mixture along the strip (try not to add the tomato water), add some chopped veggies and mozzarella cheese, cover with 2nd strip, with finger tips dipped in water seal the seams, twist gently (easier if you twist starting at the top to the middle then from the bottom to the middle, always leaving the strip on the pan) then brush with olive oil and sprinkle with freshly grated Parmesan cheese. Continue with rest of strips. Bake for approximately 12-15 minutes until golden. Let sit 3-5 minutes before cutting. Enjoy!

* You should get 2 strips per pre-made pizza dough.
Nutrition
Calories:
451
kcal
Carbohydrates:
68
g
Protein:
14
g
Fat:
14
g
Saturated Fat:
3
g
Cholesterol:
11
mg
Sodium:
1100
mg
Potassium:
344
mg
Fiber:
4
g
Sugar:
11
g
Vitamin A:
855
IU
Vitamin C:
21.2
mg
Calcium:
105
mg
Iron:
4.1
mg