Pork Roll-Ups, a fast and easy Dinner Recipe. Pork never tasted so good.
One thing I noticed right away when I arrived in Italy was the fact that Italians eat pasta and meat in small portions, that in fact they are not really big meat eaters, at least they weren't.
Sautéed greens and salads are the bigger portions. But  unfortunately fast food is becoming the norm even here.
The country where in my opinion has one the best and healthiest cuisines in the world is being taken over by the "hamburger". This must be stopped!
As I was saying, although meat in Italian dishes is given the back seat, "Secondo Piatto" (second plate,) pasta is given center stage, "Primo Piatto" (first plate).
Which to tell you the truth is OK by me and one of the reasons why it is considered Primo Piatto is because pasta is most loved by Italians.
But just because meat is the lowly second plate doesn't mean it isn't delicious in its own right. These Pork Roll-Ups, are tender thin (but not too thin) slices of pork which I rolled with shredded spinach and a slice of a mild to medium cheese. Great way to get some vegetables in there!
Dredged lightly in flour and  cooked  in olive oil they are an amazing accompaniment to a simple sautéed vegetable or salad.
Pork Roll-Ups are a fast, easy and very elegant addition to a get together or a cozy Sunday dinner. You could even give the Beef Roll ups a try too. Buon Appetito!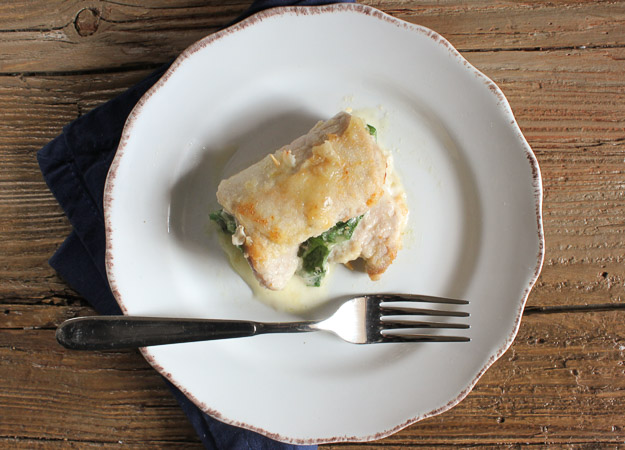 Pork Roll-Ups
Pork Roll-Ups, a fast and easy Dinner Recipe. Pork never tasted so good. Easy and quick stuffed pork slices. Perfect for any get together.
Ingredients
5

slices

pork

1

cup

chopped spinach

20 grams

5

slices

cheese

mild - medium cheese

1/2

cup

flour

65 grams

salt

2

tablespoons

olive oil

26 grams

1/4

cup

white wine

59 grams

toothpicks
Instructions
On a clean flat surface place 1 slice of pork, sprinkle with a little salt, top a slice of cheese and some chopped spinach, roll meat up and secure with a toothpick or two. Continue till all meat is rolled. In a small plate add flour, dredge roll-ups in the flour one at a time . In a medium to large frying pan add olive oil, over low-medium heat, heat until oil is hot but not sizzling add roll-ups. Cook covered on medium heat for 5 minutes (or until browned) turn the roll-ups over and repeat cooking covered for 5 minutes. Add white wine raise heat and cook covered till thickened, approximately another 5 – 10 minutes. Serve immediately. Enjoy!
Nutrition