Living in Italy there is one thing I have discovered, I have never met a person who didn't go crazy for Sicilian Cannoli, ok maybe one and that one is me. I am not a great lover of ricotta cheese. I like it cooked in foods, such as Stuffed Pasta Shells or a delicious Italian Ricotta and Chocolate Cake but on its own, no thanks.
So what does the word cannoli in English mean? Little tubes. It was the Sicilians idea to deep fry the pastry tubes and fill them with a sweetened ricotta. I must say the idea of cannoli I have always loved, I am also a fan of cheese and crackers and most appetizers. So why not give cheese and crackers a little pizzaz.
Rosemary Cannoli Crackers
If you are nervous about making bread, crackers are the perfect initiation, very easy and really delicious.
The first thing I did was combine some chopped, fresh rosemary and olive oil and let it mingle together for 30 minutes. After that I added my yeast to room temperature water, stirred in the flour and the wonderful combination of olive oil and rosemary and the salt. Kneaded it until it became nice and  smooth, and then I let it sit for an hour.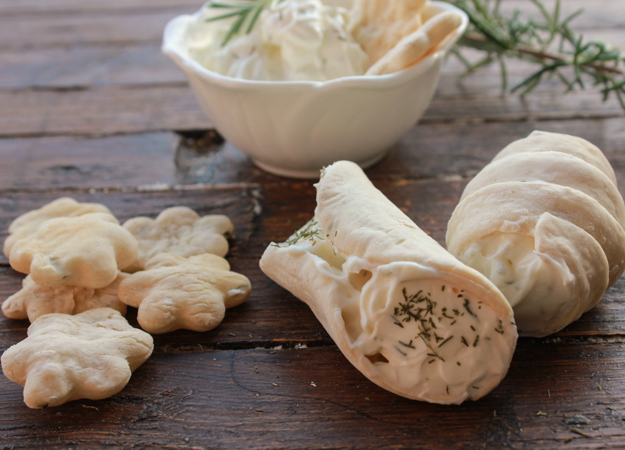 I kneaded it again for a bit, rolled it out to pie pastry thinness, a few I cut out with circles and wrapped them around the cannoli tubes and a few I cut long strips and I also wrapped them around the tubes. My advice on the strips is don't make them too long, long enough to wrap around 2, maximum 3 times. I also made some cutouts with some of the dough. They were baked for about 12-15 minutes, they don't turn very golden, but they do get really crispy, the perfect Rosemary Cannoli Crackers.
For me the perfect filling was some softened cream cheese and a little dill mixed in, my husband loved them and decided my mother's Salmon Spread was his choice for filling. Got to admit good idea that Italian has once in a while! My youngest daughter decided she liked the flowers all on their own. Enjoy!
Rosemary Cannoli Crackers
Yield depends on how big the cannoli are or cutouts. Probably enough for 4-6 servings.
Ingredients
2

cups

flour

250 grams

1/2

cup

+ 1 tablespoon water

125 ml

1 3/4

teaspoons

yeast

5 grams

1

teaspoon

salt

5 grams

1/2

tablespoon

olive oil

6 1/2 grams

1/2 - 1

tablespoon

chopped fresh rosemary

.8 grams
Instructions
In a small bowl mix together olive oil and chopped rosemary, set aside.

In a large bowl add water, sprinkle yeast on top of water and let sit 3-5 minutes, then stir to combine. With a wood spoon add flour and stir a few times, add oil mixture and salt, stir a few more times, move dough to a flat surface and knead until smooth.

Place in a bowl and cover with plastic wrap, let rise one hour.

Remove to a flat surface, knead a few times and roll until pie pastry thin (1/8" / 3-4 mm). Cut into long thin rectangler strips and wrap around cannoli cylinders (wrap 2 or 3 times) or cut with a round cookie cutter and wrap around cannoli cylinders (overlapping circle edges if you prefer closed cannoli). You could also use cut outs to make fancier crackers. Place cylinders and cracker cutouts on parchment paper lined cookie sheets cover with plastic wrap and let rest for 40 minutes, remove plastic wrap and bake in pre-heated 320° oven (160°), for approximately 12-15 minutes (they really don't turn brown a little golden). Enjoy!

They can be stuffed with cream cheese and a some chopped chives or dill, whatever you prefer.
Nutrition
Calories:
260
kcal
Carbohydrates:
49
g
Protein:
8
g
Fat:
2
g
Sodium:
585
mg
Potassium:
117
mg
Fiber:
3
g
Calcium:
9
mg
Iron:
3
mg