Every two or three weeks my daughter's friend comes over for lunch. I love this kid, she and my youngest have been friends for about 9 years now, they became friends when they both took swimming lessons together. Needless to say we have become very good friends with her parents as well.
Why do I love this girl, besides the fact that she is sweet and a joy to be around and the perfect friend for my own daughter? Because I can make anything and she will try it at least once. So when I know she is coming I usually have 2 or 3 recipes ready and waiting. Just like today I made this delicious  Baked Cauliflower Carrot Cheese Pie and she loved it, actually we all loved it.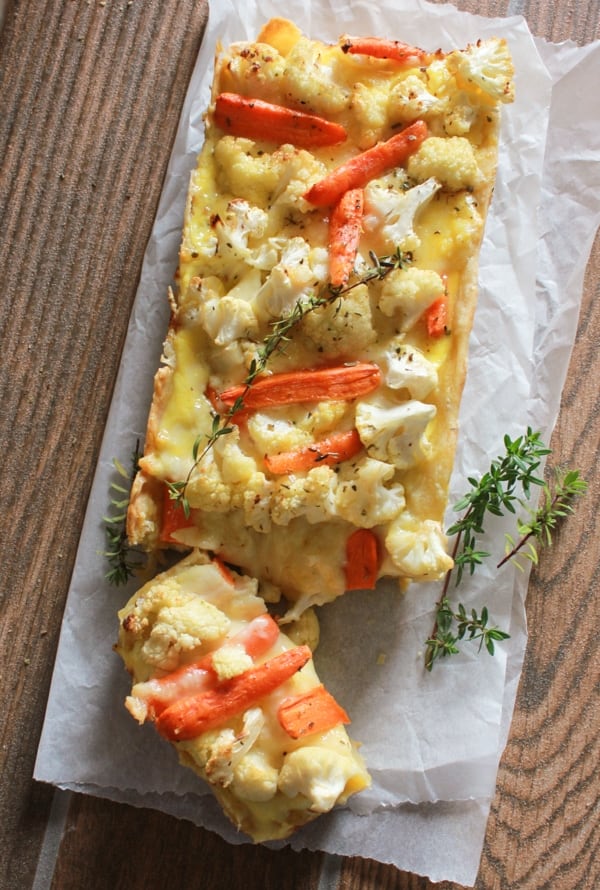 This is a total made from scratch savory pie. An easy pie crust filled with the perfect combination of Fontal (or Gruyere cheese) and Parmesan, fresh cauliflower and carrots. If cauliflower isn't your favourite, broccoli is always good substitute.
I have made a few savory pies, Tomato Cheese Pie, Italian Savory Rustic Pie but I always used store bought dough. But for this one I decided to use a homemade pastry.
While the pastry is resting in the refrigerator, you have time to get the filling ready, sauté the broccoli and carrots,  grate the cheese, combine it with the Parmesan and egg. After that it comes together quickly and easily. Baked Cauliflower Carrot Cheese Pie makes a wonderful appetizer or main dish. I am actually eating a piece (room temperature) while I write this, so I guess you could say a yummy snack too! Buon Appetito!
Baked Cauliflower Carrot Cheese Pie
Baked Cauliflower Carrot Cheese Pie, a healthy easy homemade pastry dough and a delicious vegetarian, cheesy filling. Appetizer/main dish.
Ingredients
PIE DOUGH

1

cup

+ 1 tablespoon flour

150 grams

2 3/4

tablespoons

water

40 grams

1

egg

pinch salt

3 1/2

tablespoons

butter

50 grams

FILLING

3

cups

cauliflower florets

300 grams

4 -5

small carrots

cut lenghtwise and sliced again if too large

2

tablespoons

olive oil

pinch or two salt

oregano

fresh thyme

2/3

cup

shredded Fontal or Gruyere cheese

150 grams

1/2

cup

freshly grated Parmesan

50 grams

1

egg
Instructions
PIE DOUGH

In a medium bowl whisk together flour and salt, add water, egg and butter, combine with a fork until dough starts to come together, then move to a lightly floured flat surface and knead until soft and smooth (add a little flour if too sticky), wrap in plastic and refrigerate for 30-60 minutes.

While the dough is in the fridge, prepare filling.

In a medium frying pan add olive oil, broccoli, sprinkle with salt and oregano and sautee on medium to high heat, stirring constantly until a few cauliflower florets just start to brown. Remove cauliflower with a slotted spoon and then add the carrots and a sprinkle of oregano, a pinch of salt and sautee for 2-3 minutes, remove from heat.

In a medium bowl mix together with a fork, shredded Fontal or Gruyere cheese, Parmesan and egg, set aside.

Pre-heat oven to 350° (180° celsius). Lightly grease a 10 x 4 inch loaf pan (26 x 11 centimeter)

Remove dough from fridge and knead a couple of times to soften, lightly flour the dough and rolling pin and roll out and fit into loaf pan (I only went half way up the pan with the dough), with a fork lightly prick the bottom of the dough, then cover dough with a piece of parchment paper and cover with dried beans or pie weights, bake for 10 minutes, remove from oven, remove beans and parchment paper.

Pour half the cheese mixture on top of dough, spread half the brocolli and half the carrots, repeat with the other half of ingredients. Top with a sprinkle of oregano and a sprig or 2 of thyme. Bake for approximately 20-25 minutes (I baked mine for 25 minutes). Let sit a few minutes before serving. Enjoy!
Nutrition
Calories:
302
kcal
Carbohydrates:
18
g
Protein:
12
g
Fat:
19
g
Saturated Fat:
9
g
Cholesterol:
93
mg
Sodium:
277
mg
Potassium:
211
mg
Fiber:
1
g
Sugar:
1
g
Vitamin A:
485
IU
Vitamin C:
24.1
mg
Calcium:
271
mg
Iron:
1.5
mg