These delicious Italian Fish & Seafood Recipes are perfect anytime, from a Seafood Appetizer to all kinds of pasta dishes, to baked whole or fillet. From a simple to even a creamy sauce and everything in between.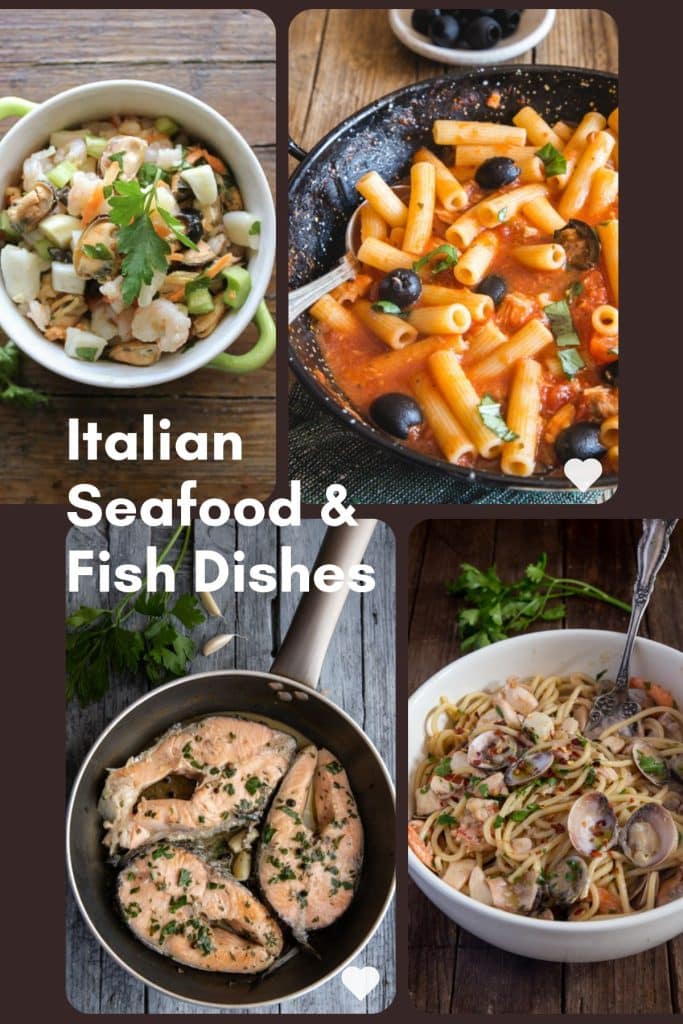 Appetizers
Fish lovers are going to love these fast and easy appetizers, from smoked salmon to a cold seafood salad. Bring out the Italian Crusty bread and enjoy.
Salmon Spread
This smoked salmon spread is so full of flavor. It's the perfect appetizer for any event and with only 4 ingredients, it's so easy and fast to make! It's perfect for this time of year, serve it with your favorite crackers or even a tasty crusty bread.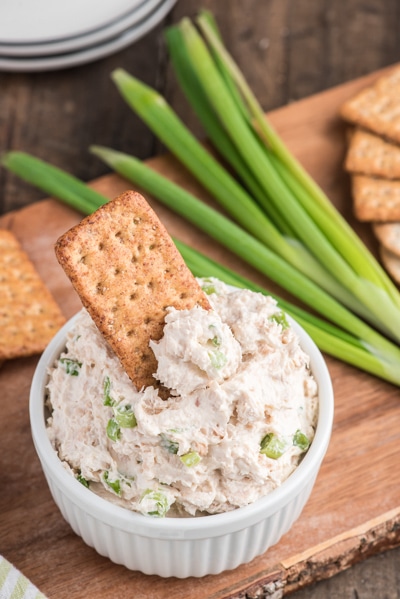 Italian Seafood Salad
Italian Seafood Salad, an amazing appetizer that everyone will love, made with shrimp, mussels, calamari fresh veggies and some tasty olive oil. Serve with some Italian Crusty Bread to make this your new go to Appetizer.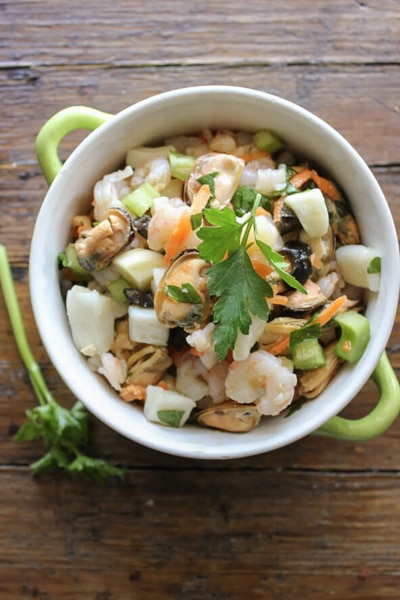 Smoked Salmon and Rucola
Smoked Salmon Rucola (Arugula) is a fast, easy and healthy Italian Appetizer. Topped with flakes of fresh Parmesan Cheese and drizzled with Olive Oil. Perfect!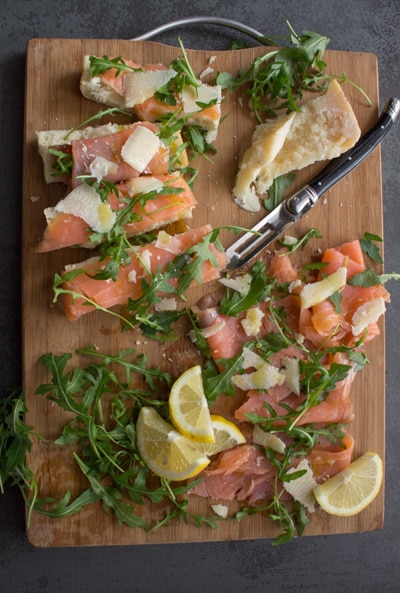 Pasta/Soup
Nothing more delicious than a plate of Italian pasta especially with the addition of fish, whether in a creamy sauce or a simple olive oil base.
Easy Italian Fish Soup
Easy Homemade Italian Fish Soup, full of big pieces of all your favorite fish, such as haddock, shrimp, mussels and clams all combined in a perfectly spiced tomato broth. A delicious comfort dish, a little bit stew, a little bit soup!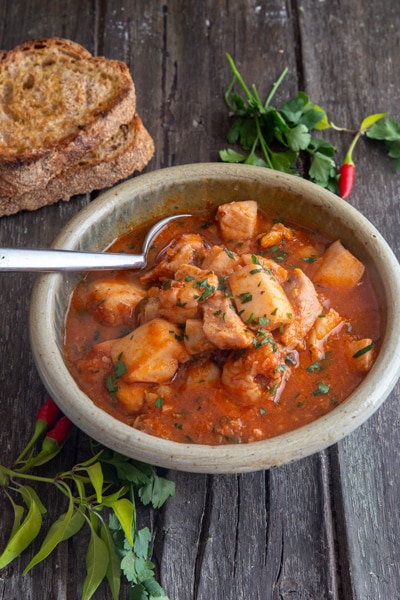 Creamy Tuna Noodle Casserole
Easy Creamy Tuna Noodle Casserole, one of the most delicious casseroles you will eat. Full of tuna, a creamy sauce and peas. Or substitute with broccoli or mushrooms, or you choose.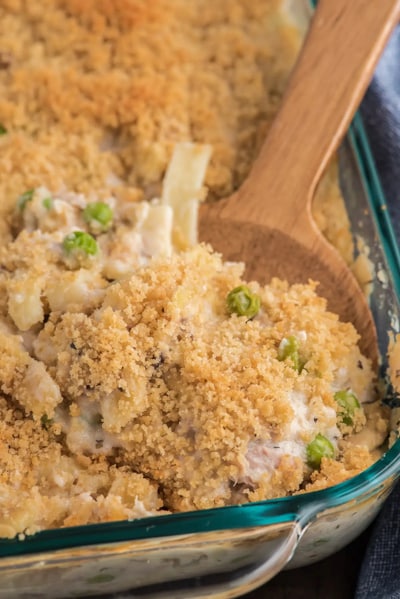 Classic Seafood Pasta
This simple and easy Seafood Pasta is made the Classic Italian way. No cream, no milk, no butter, just the traditional Italian recipe. Perfect for family or even company for dinner. Dinner never tasted so good.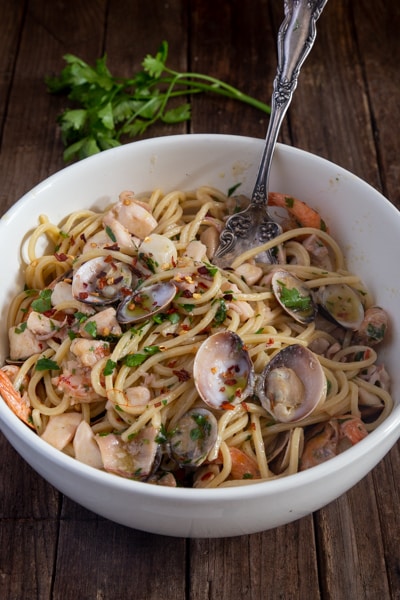 Spaghetti e Alici
A fast and easy Fresh Tomato Anchovy Pasta (Spaghetti e Alici), you will overcome your dislike for Anchovies once you have tried this Pasta Recipe. Delicious.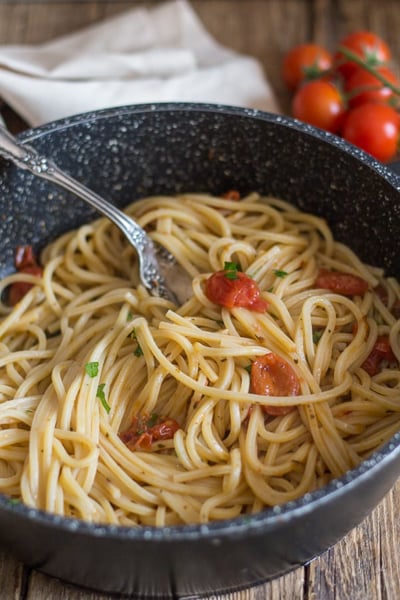 Italian Tuna and Olive Rigatoni
Pasta with Tuna and Olives is a fast and easy Pasta recipe that is perfect anytime. A 15 minute homemade tomato sauce filled with olives and tuna, can't get much better than that!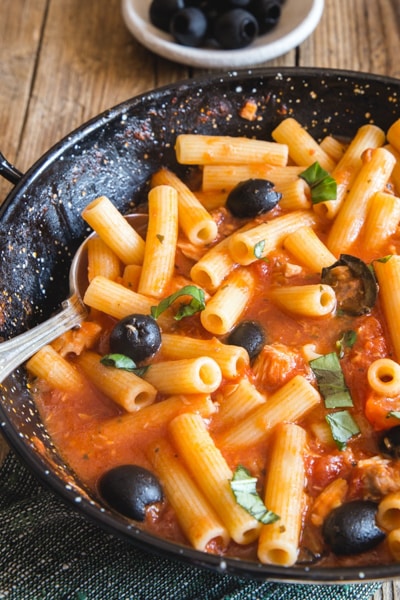 Zucchini and Shrimp Pasta
Skillet Zucchini Shrimp Pasta, don't know what to make with all those zucchini, this fast and easy sautéed Zucchini, Shrimp and Spaghetti is one of the best choices for dinner tonight or any night.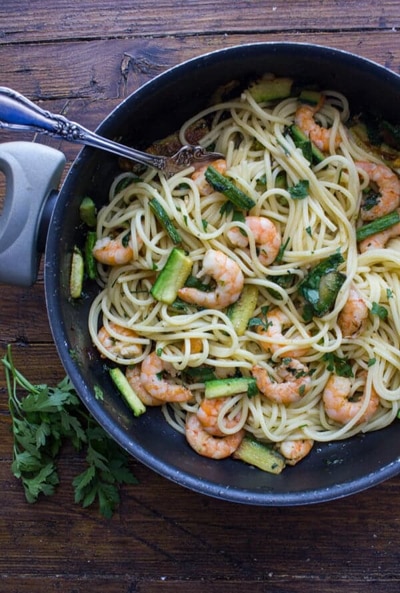 Smoked Salmon Cream Sauce
Smoked Salmon Cream Sauce, a delicious Italian Pasta Sauce, made with smoked salmon, tomato purée and cream. So Good.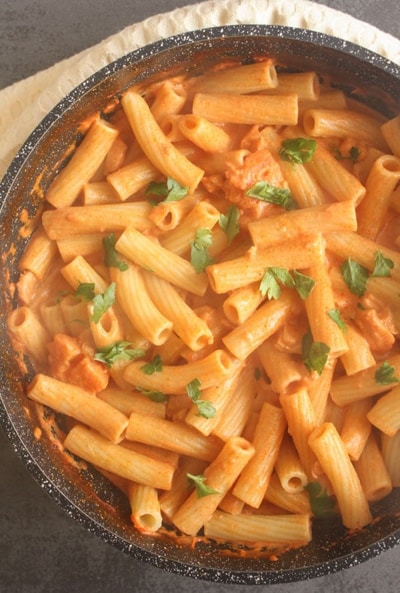 Easy Italian Shrimp Pasta
This Shrimp Pasta, is a delicious fresh herb Italian sautéed shrimp recipe, made even better served tossed with pasta. Fast and easy never tasted so good. Make it your next dinner idea.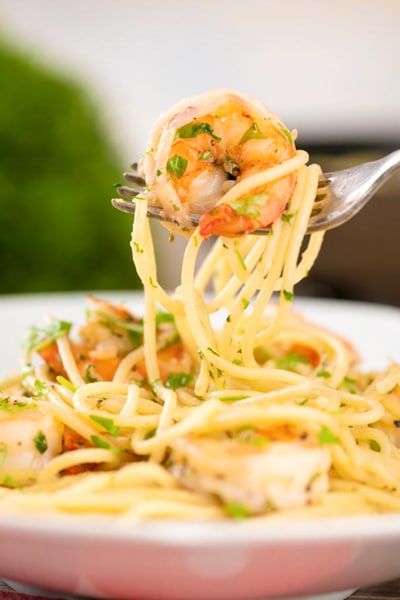 Main Dish
Italians love their fish dishes, whether baked in the oven or a simple pan fry. Some are faster to make but all are delicious.
Simple Pan Fried Fish
I know I always say I'm not a great fish lover, and that is the truth, even though I seem to be doing more than enough fish for someone who says otherwise. But I will say, when it is done right it can be really delicious. And this Simple Italian Pan Fried Fish is pretty darn good.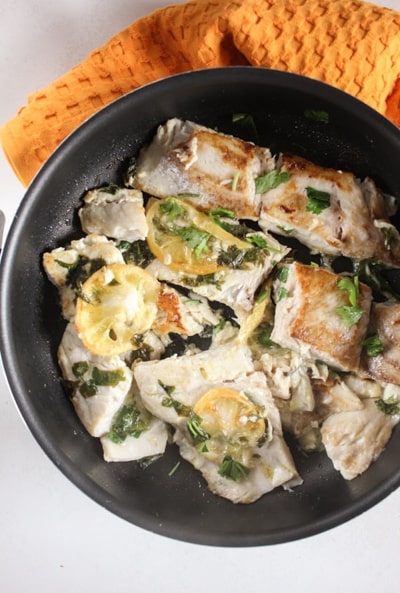 Easy Salmon Burgers
Easy Salmon Burgers, fast and easy made with canned salmon, cracker crumbs, chopped celery and onions. Easy becomes delicious, especially when served with a little Greek Yogurt Dill Sauce.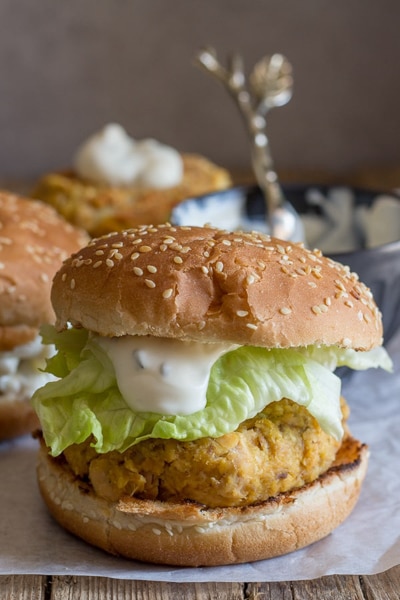 Quick and Easy Baked Stuffed Halibut
Quick and Easy Baked Stuffed Halibut, a delicious baked fish dish, with the perfect stuffing. The perfect weeknight meal.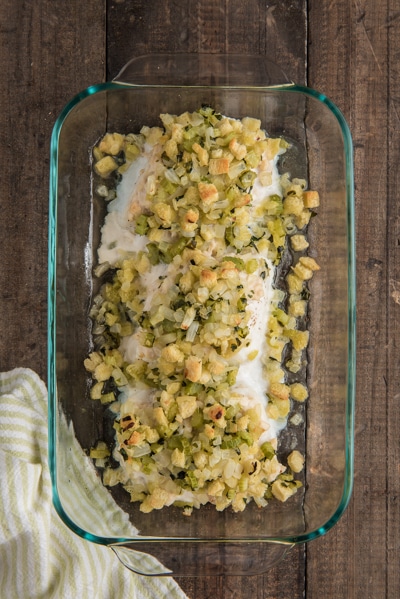 Tuna Burgers
Delicious Best Ever Tuna Burgers. A fast and easy canned tuna recipe, nobody will even miss the meat. These Tuna Patties are a new Dinner Recipe your whole family will love.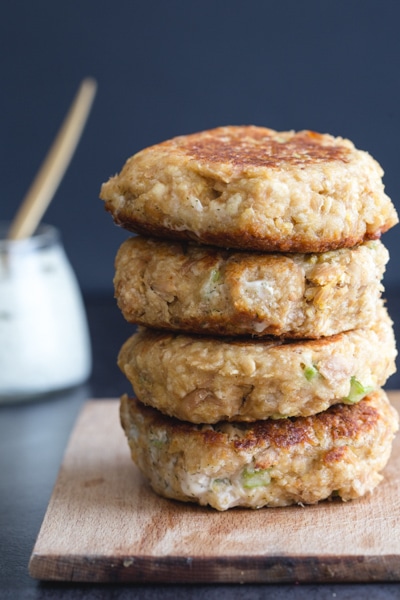 Baked Fish Marinara
Baked Fish Marinara, a tasty tomato sauce made with fresh tomatoes and herbs is the perfect addition to a healthy baked fish recipe. A fast and easy weeknight meal.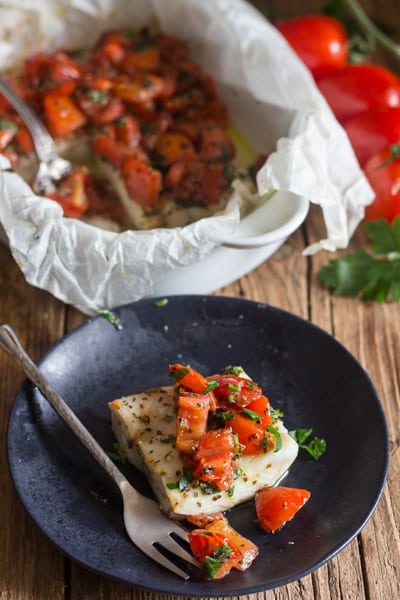 Grilled Salmon Steaks
These Italian Salmon Steaks are a fish lovers dream, tasty, tender and quick and easy. Made with only a handful of ingredients and very little time, it makes the perfect family or even company coming dinner idea. Flavorful and delicious!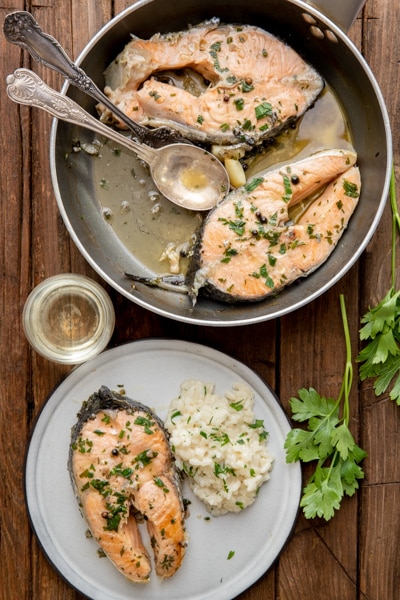 Seafood Fry
Italian Fried Seafood, or "Fritto Misto", an easy mixed seafood, tossed with flour, fried and lightly salted. Serve with some homemade french fries and dinner is served.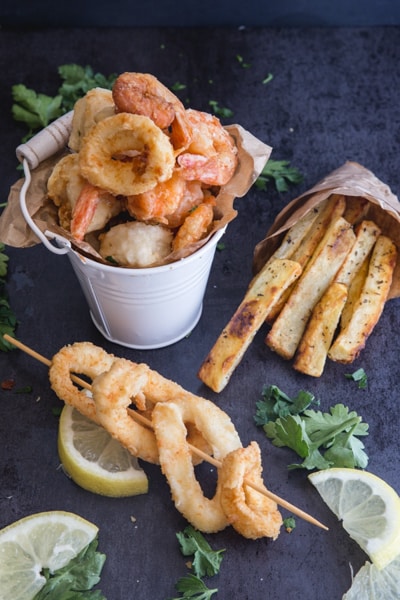 Italian Sautéed Shrimp
One pan Italian Sauteed Shrimp, just five ingredients makes this a quick and easy shrimp recipe. The perfect anytime dinner idea.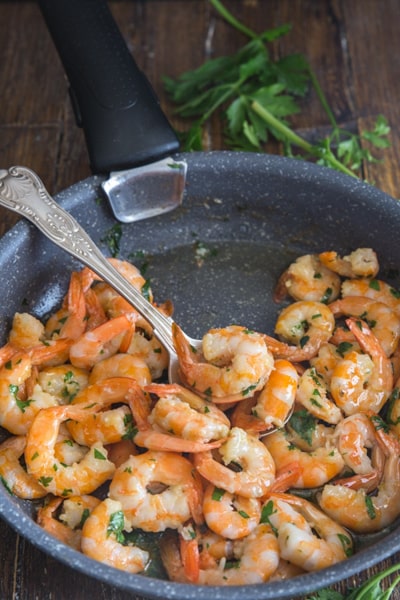 Baked Whole Fish
Baked whole Trout, Sea Bass or Sea Bream, a delicious way to bake your fish, the Italian way. Stuffed with fresh herbs, garlic and olive oil.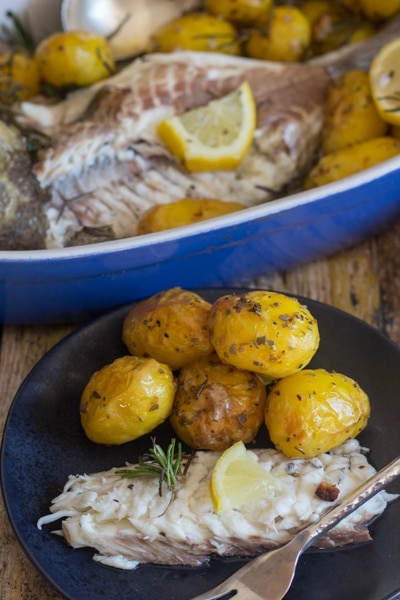 Is fish good for you?
Fish is filled with omega-3 fatty acids and vitamins such as D and B2 (riboflavin). Fish is rich in calcium and phosphorus and a great source of minerals, such as iron, zinc, iodine, magnesium, and potassium. The American Heart Association recommends eating fish at least two times per week as part of a healthy diet. Eating fish once or twice a week may also reduce the risk of stroke, depression, Alzheimer's disease, and other chronic conditions.
5 of the healthiest fish to eat?
As per One Medical
Albacore Tuna
Salmon
Oysters
Sardines, Pacific
Rainbow Trout
So whenever you are looking for an Italian Fish or Seafood Recipe I hope you give one or even some of these recipes a try! Buon Appetito.
Updated from December 15, 2020.