Pick Your Pasta Choose Your Sauce Wisely. Believe me it isn't as easy as you think. Fettucine really does taste better with sautéed mushrooms, and that Rigatoni is perfect with a Fast and Easy Black Olive and Tuna Sauce.
I would love to help you decide on the short or long of it with Pick Your Pasta.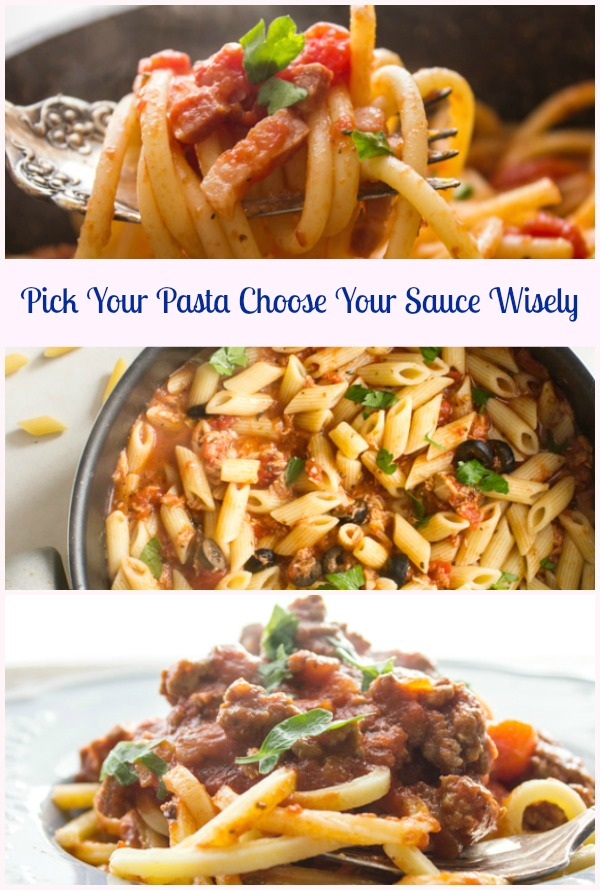 Nothing more embarrassing for a non-Italian, married to an Italian and living in Italy, when you think you made the perfect pasta dish, only to hear "if only she had used … Pasta, it would have been perfect".
Ah yes there are many and I mean many types of pastas  and each has their own partner in sauce. Long pasta, short pasta, pasta with ridges, smooth pasta, big pasta, little pasta, dry pasta, egg pasta, filled pasta, well, you get the idea.
In my opinion, pasta is one of the few Perfect Dishes if made correctly, al dente . Please, I am begging you, do not over cook pasta!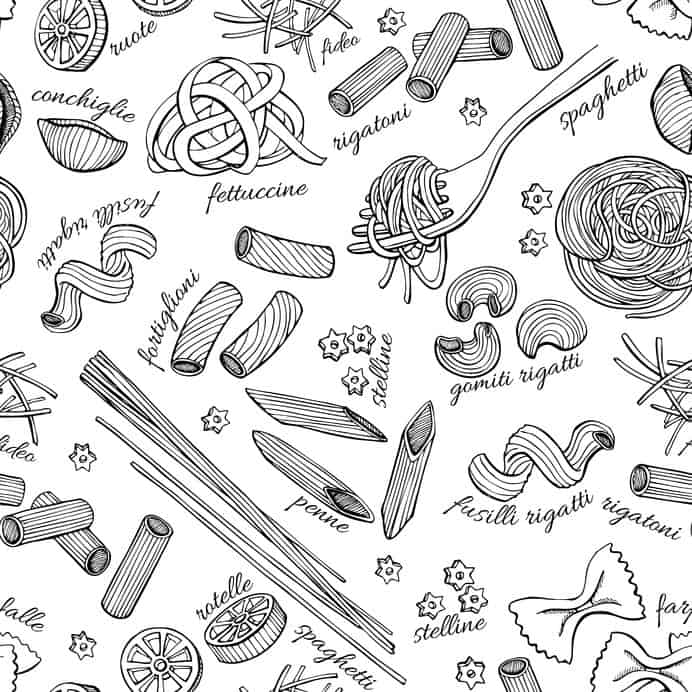 Pasta must have a bite to it when you eat it, never a melt in your mouth texture. And remember add some spices to that sauce and a little salt. Ditch those canned pre-made sauces, and make something from scratch, you will be amazed.
Pasta can be one of the fastest dishes to prepare if you pick the right recipe. And why not give that home-made Egg Pasta a try? You may be pleasantly surprised. So remember it's not all about the Sauce, your choice of Pasta counts too!
 Short Pasta –  Rigatoni, Penne (Pennette), Macaroni, Sedani, Fusilli, Lumache, Pipette, Gomiti and Garganelli
Sauces – Meat Sauces such as Ragù made with Beef, Pork, Chicken and Sausage, even some  Mushroom Sauces, or Vegetable Sauces made with Mushrooms, Peppers, Eggplant, Artichokes and Asparagus, Four Cheese Sauce, Arrabbiata , Baked Pasta , Creamy Salmon Sauce.
Long Pasta :  Tagliatelle, Fettuccine, Lasagnette, Spaghetti, Vermicelli, Trenette, Pappardelle,  Bucatini, Linguine
Sauces –   Meat Sauce made with  Beef, Pork, Chicken, Vegetable Sauces, Mushrooms, Peppers,  Zucchini, Eggplant, Artichokes, Tomato Sauce (simple with oregano and basil),  Seafood Sauces, Tuna, Shrimp, Mussels or Clam sauces –  Pesto sauces, White Sauces, Cheese Sauces, tossed with Ricotta, Mascarpone – Quick Sauces – Garlic, Oil and Hot Pepper Flakes (Aglio, Olio and Peperoncino),  Anchovies and Oil, Eggplant, Artichokes or Zucchini  and Oil, Carbonara, Amatriciana, Cacio and Pepe,
Long, Thin Pasta –  Angel Hair, Spaghettini
Sauces –   White Sauce, Carbonara, Butter and Parmesan Cheese, Sage and Butter, Ricotta                           Parmesan Cheese.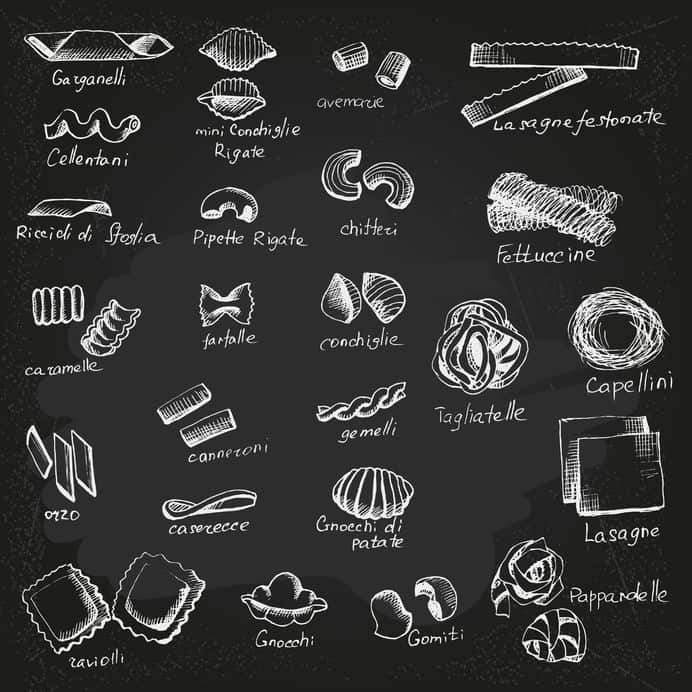 Long Egg Pasta –  Store-bought or Homemade
Sauces –  Delicate Sauces made with Cream, Prosciutto, Peas, Pine Nuts or Tartufo.
 Short, Flat Pasta :  Lasagna, Lasagnette, Cannelloni
 Sauces –  Creamy Sauces, White Sauces, Blender Sauces (Vegetable), Baked Pasta, Mushroom Sauce, Ricotta 
 Very Short Pasta : Pipetti, Ditaloni, Stelline,
 Sauces – Soups, Minestrone, Minestrine, Simple Tomato Sauce with Beans (Cannellini, Borlotti),               Peas, Lentils, Chick Peas, Fava Beans, Mixed Vegetables.
  Specialty Pasta : Bowtie, Rotelle, Short Pasta
 Sauces –  Cold Summer Pasta Salads, Delicate Sauces, Salmon
Filled Pasta – Ravioli, Tortellini, Capelletti
Sauces –  Broth (tortellini and Capelleti) , Tomato Sauce, Meat Sauce, Butter and Sage, Vegetable Sauce
Gnocchi
Sauces – Ragù Meat Sauce, Plain Tomato Sauce, Cheese Sauce
Here are 15 good examples. Take a Look. I hope this list helps next time you may be stuck with what Pasta to serve with what Sauce. Buon Appetito!